Loading...
UPDATED 08.26.2014 by BOULET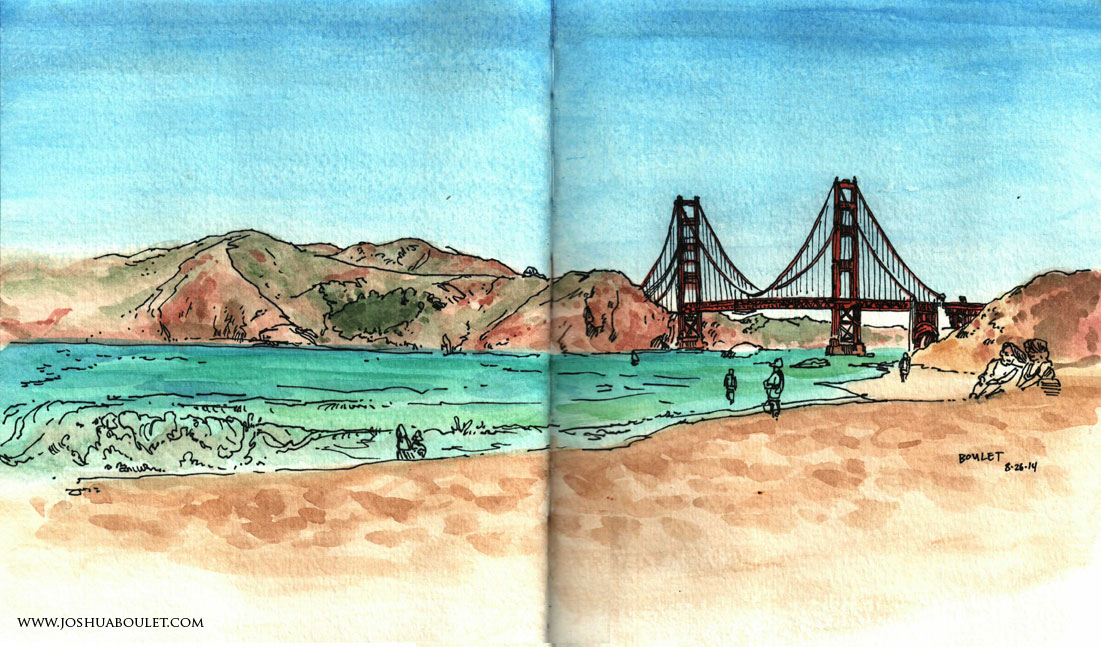 UPDATED 08.22.2014 by BOULET
SEATTLE HEMPFEST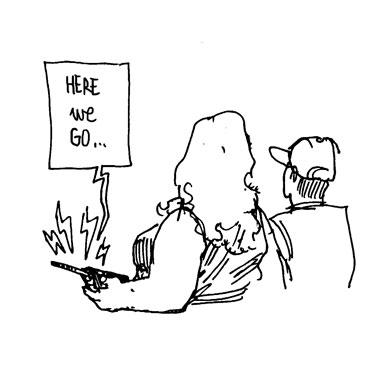 As lived by BOULET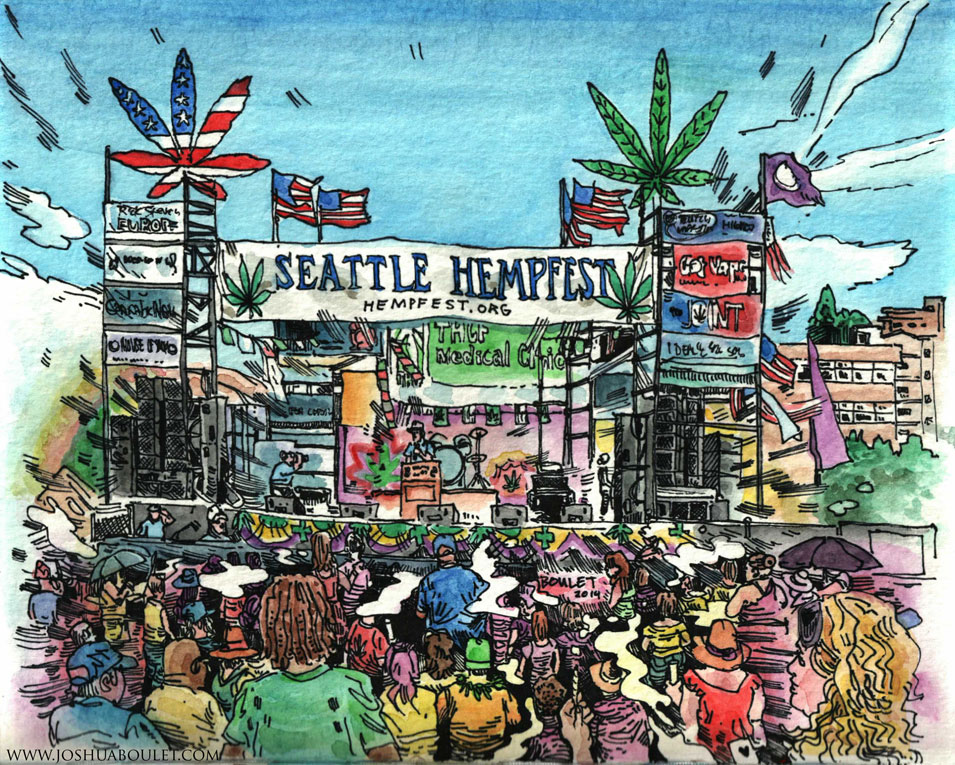 For the next few days I will behind the scenes documenting by drawing the
SEATTLE HEMPFEST 2014
It's 8:00 am.
Too early for this stoner.
Set up starts today and will require all week.
I ride into myrtle Edwards Park with Darby Doobie and Jess.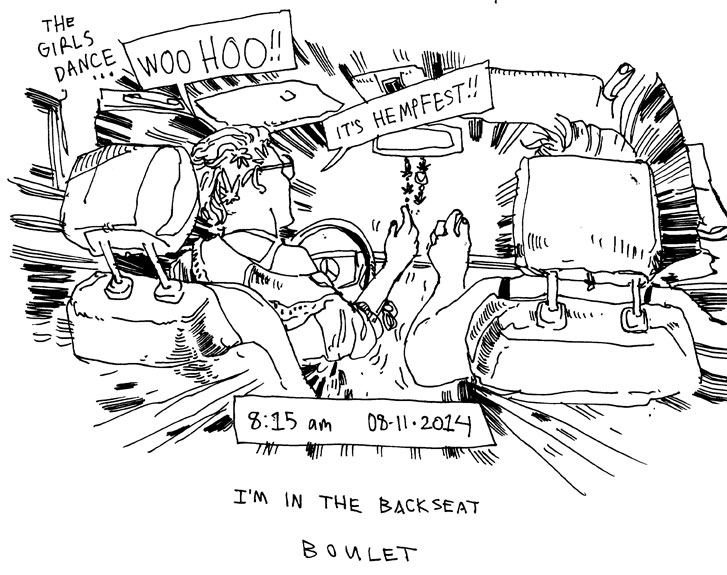 Once they take control of the park,
Set up begins quickly...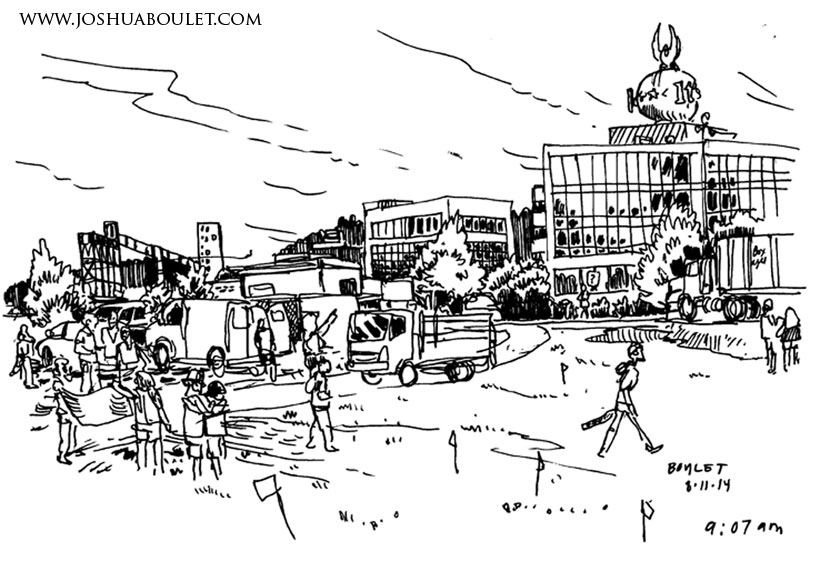 Sketching the volunteer crew.
This is Retaliation; The Dead Ninja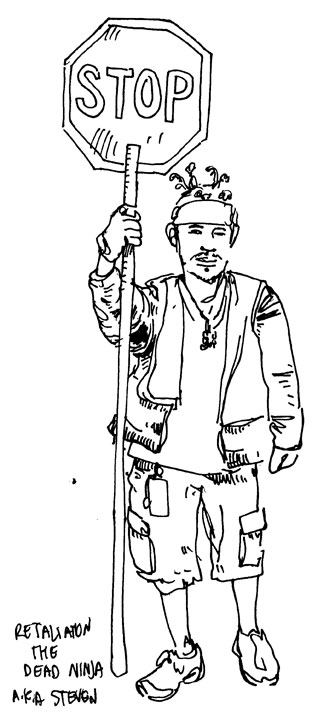 9:59 AM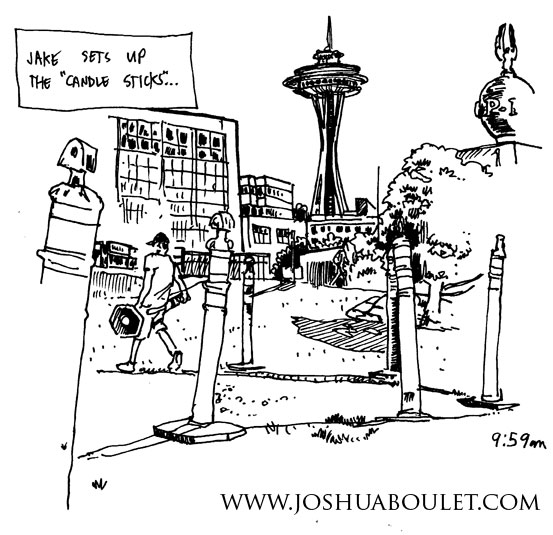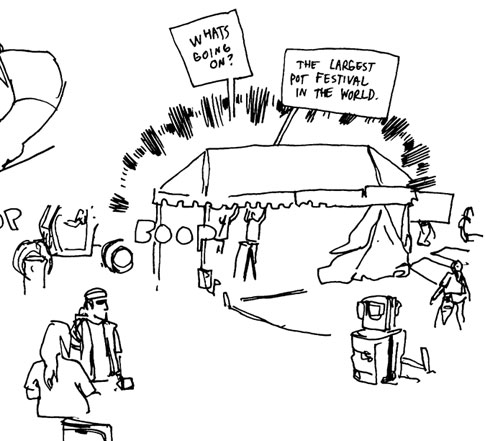 setting up "OPERATIONS"
11:26 AM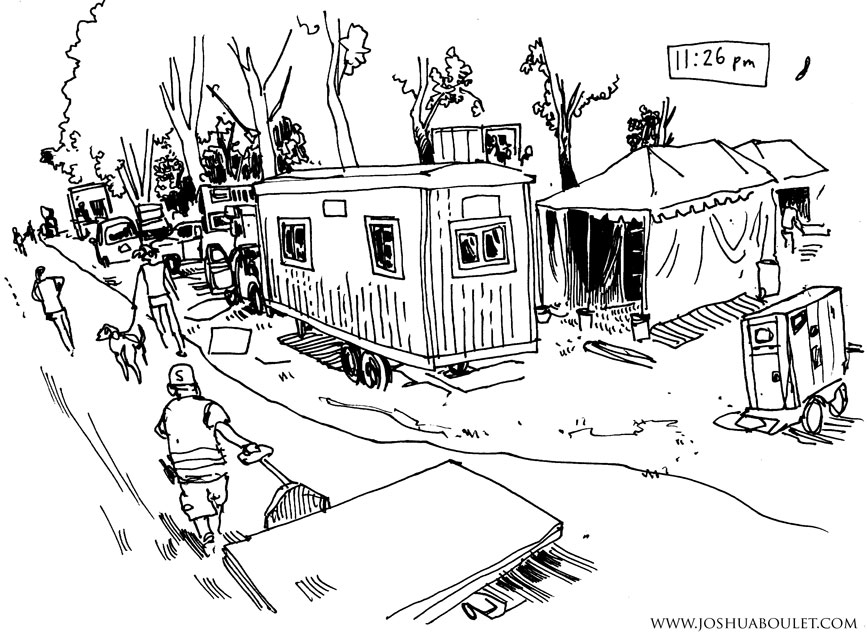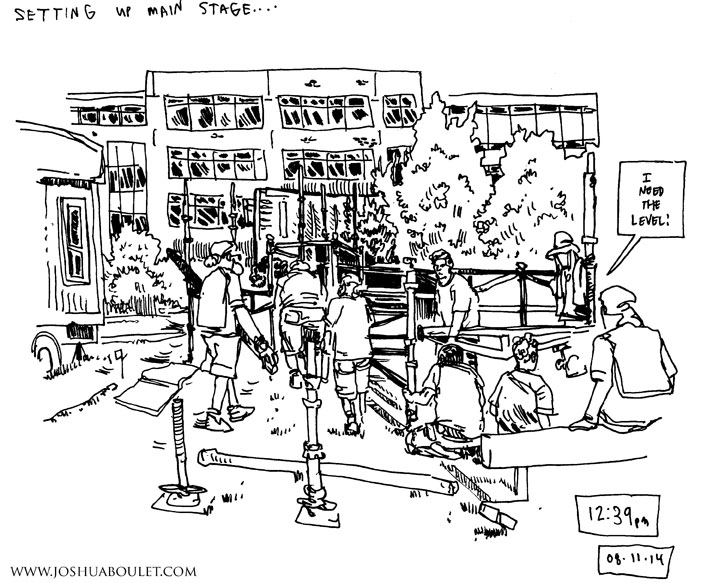 The first day I spend walking around sketching what I can.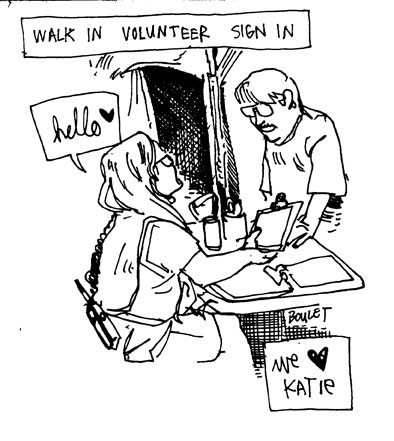 The DOOR TO EVERY WHERE
I felt this would only look good in photo.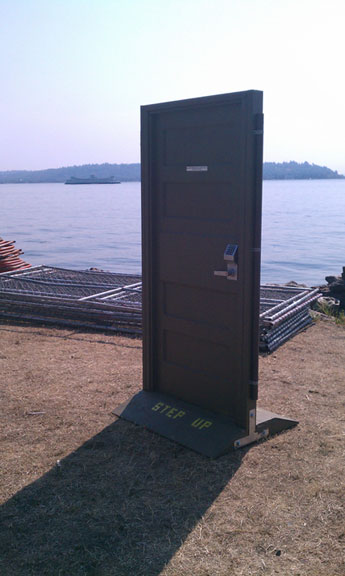 The Hemposium rises...
3:15 PM
It's still day one.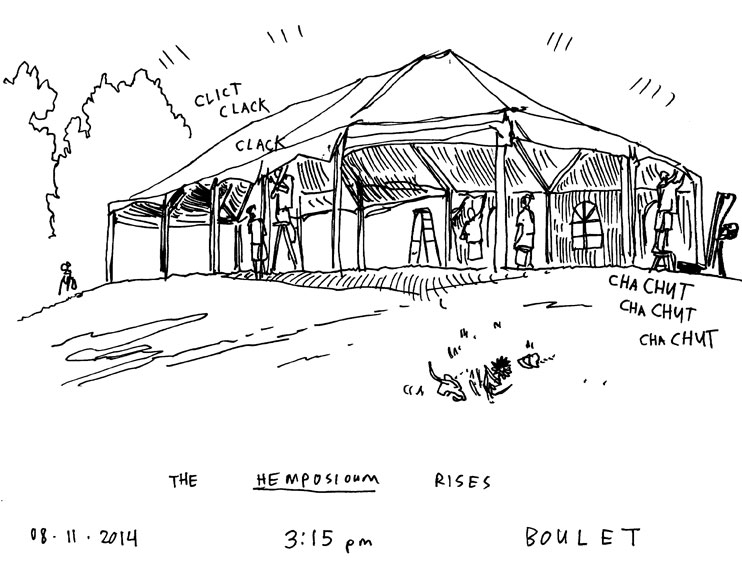 Day one ends early for me.
I leave the hardworking crew for a very comfortable bed.
That night I fall asleep listening to Seattle's greatest musician;
the rain.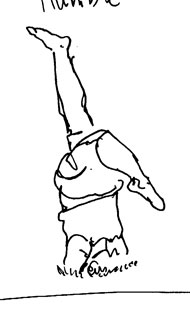 SET UP
DAY TWO
I get to the park late, and everyone is already hard at work.
I begin to recognize familiar structures and parts of festival.
I should be sketching.
Zach Whitson, a.k.a "Little Whitson" poses with his Mom, and asks me to sketch them.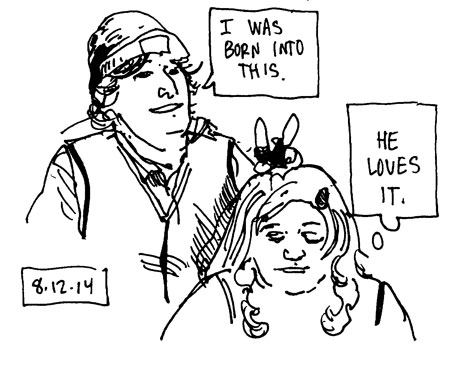 Later Zach will ask if I can draw a perfect circle.
I tell him "No", and then provide examples.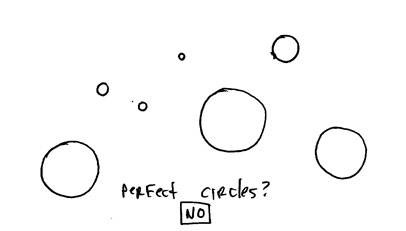 I try to be in the park at 4:20 each day.
The thing is that everyone is working so hard
4:20 comes and goes with out much notice.
but there are things I notice.
Site Placement adds their touch to the #420 booth location.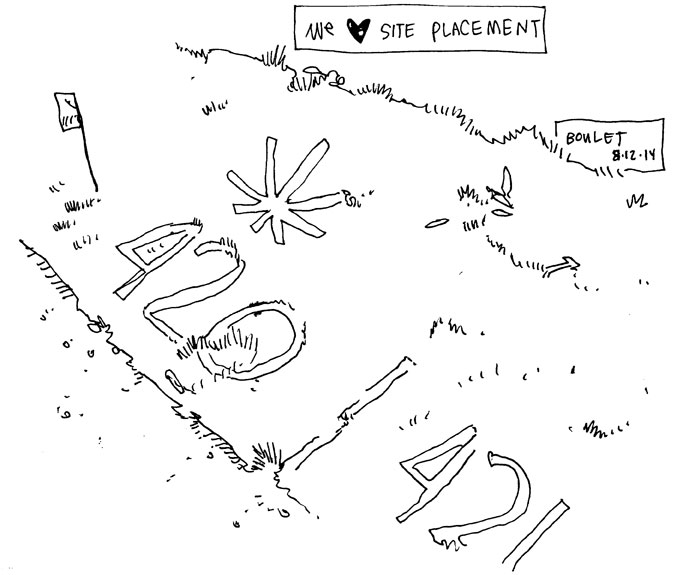 I continue to walk around and sketch random things and events.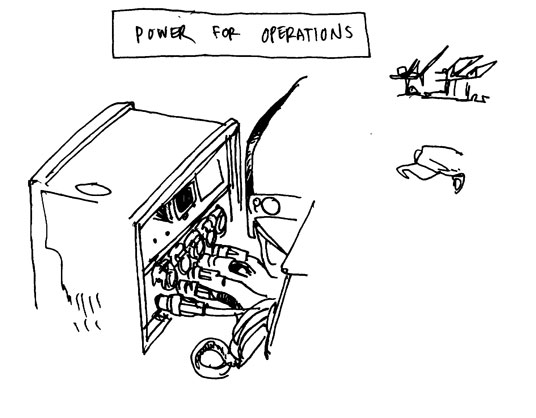 Justin and "Bones".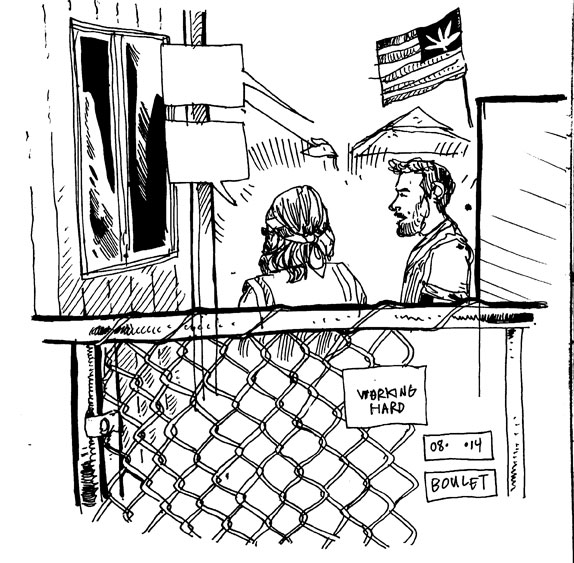 By the end of the second day main stage is a completed skeleton.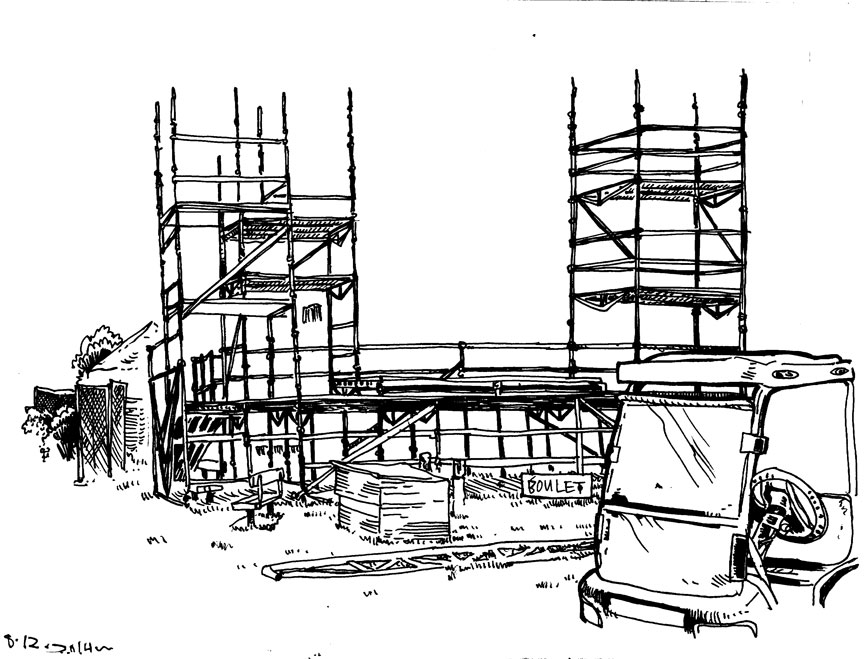 SET UP
DAY 3
There are rumors of rain,
but I ignore those.
Instead I draw.
Casper and The Lovely Penny.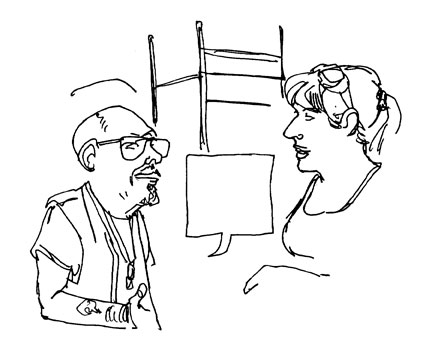 The volunteers work very hard, and must take much needed breaks.
Hydrating is also very important here.
Justin looks back at me, and smiles.
He begins to sing.
It's the Cheers theme, but a pot version of it.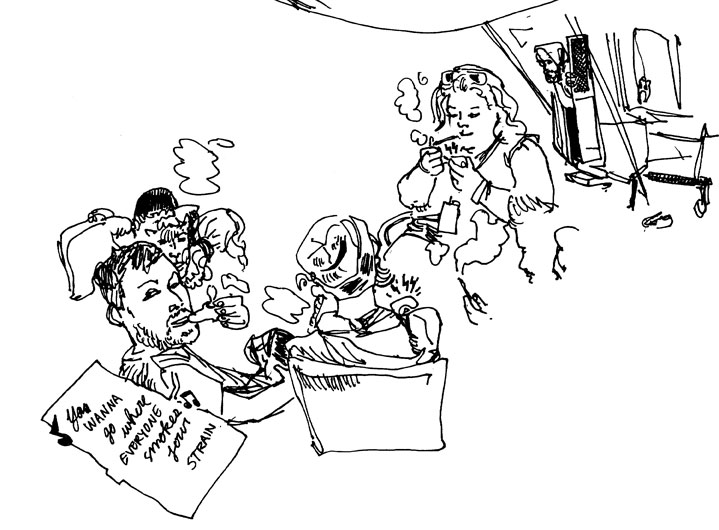 Healing in the QM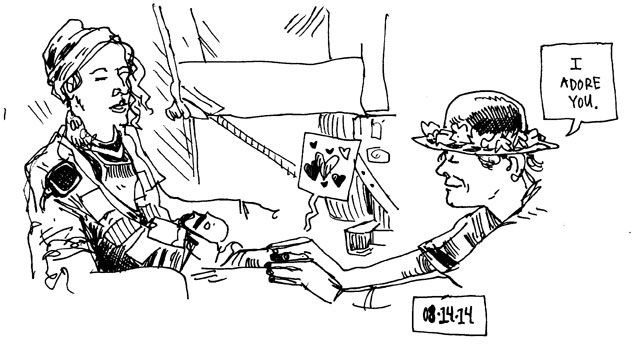 Michael a.k.a The Honey Badger.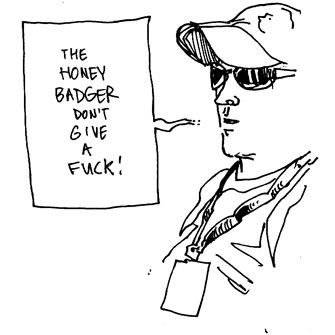 Nicole of Hempfest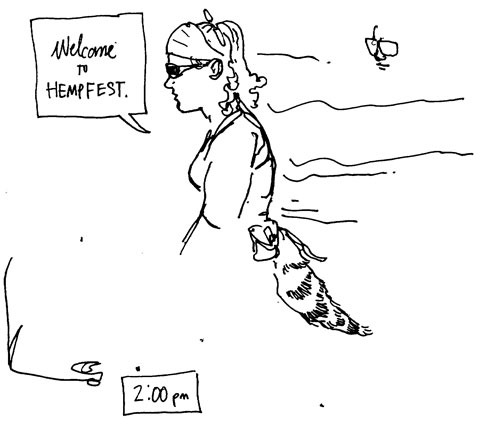 Volunter Ground Crew badges by Boulet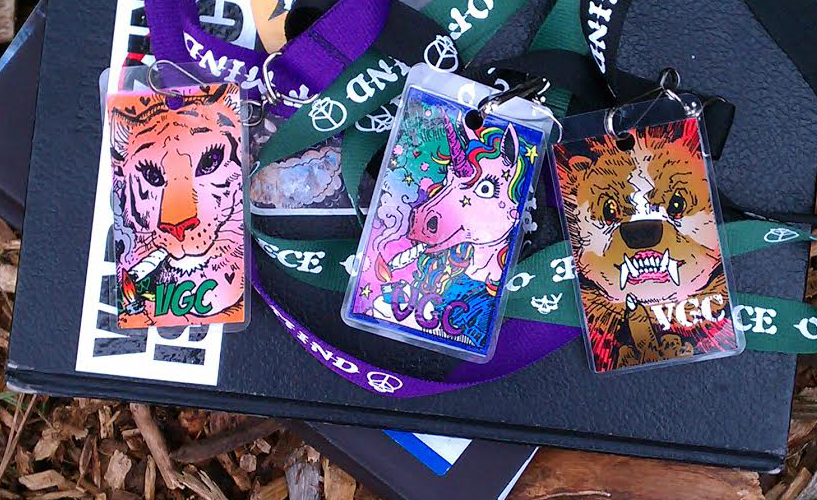 SET UP
DAY 4
THURSDAY
Nicole and Darby Doobie, leads of the VGC ask if I "wanna see some fun."
Of course I do.
"Hop in" says Darby Doobie.
and I draw...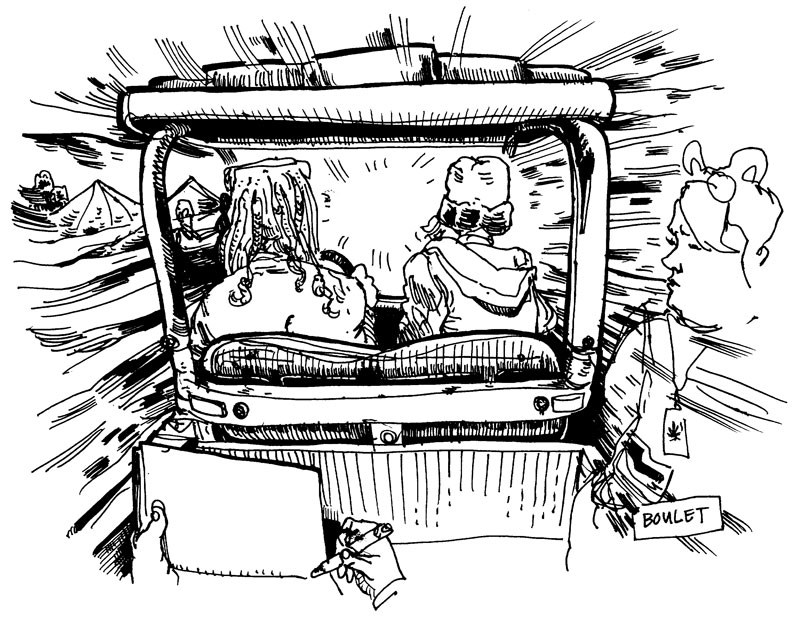 Today it does rain.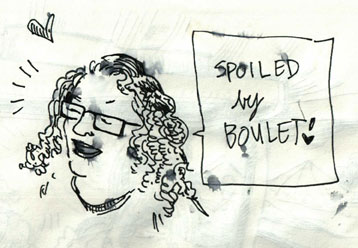 (above) Joy makes my day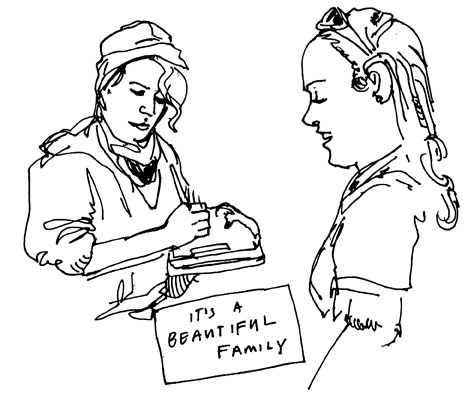 Devin (below)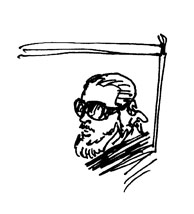 FRIDAY
HEMPFEST DAY ONE
I am handed an all access pass, and I get to work, drawing.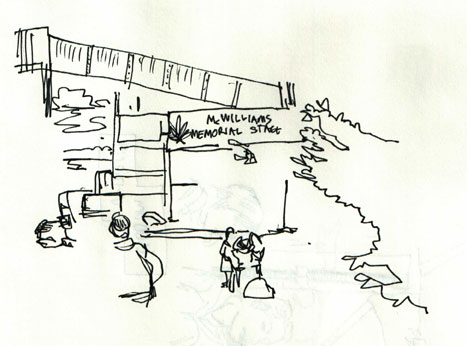 Vivian McPeak says I'm sketchy.
Sometimes he's right.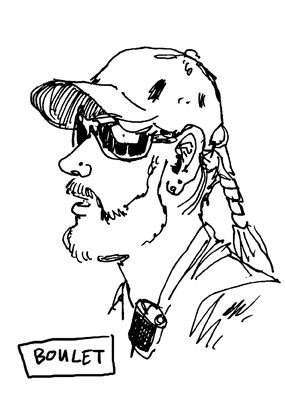 Vivian's view from main stage.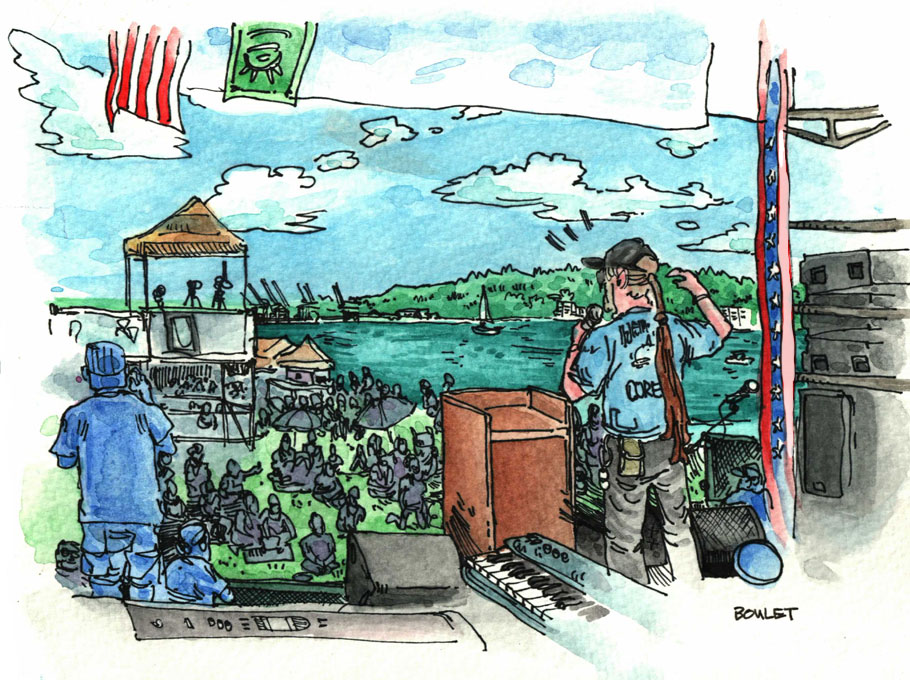 Friday night there is a V.I.P Thank You party.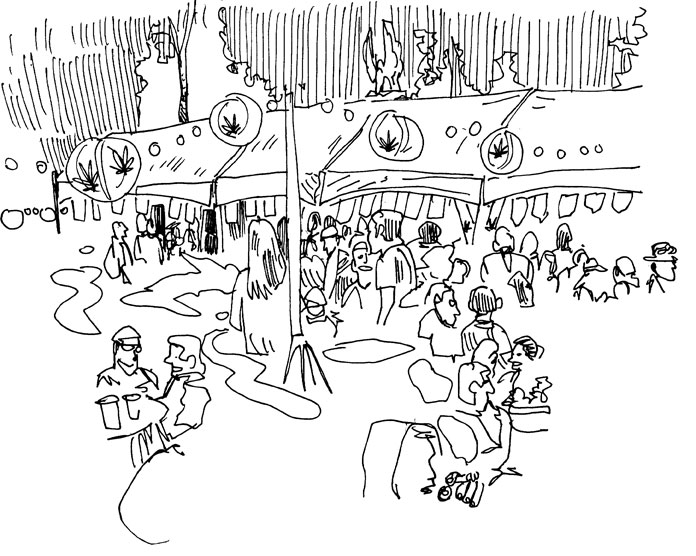 Jake Littlefield wants me to climb up on top of main stage to do a drawing.
I agree that this would be awesome.
Jake does the leg work and gets the Main Stage Manager, Jon Davis, to agree to let me do just that.
First I must meet Jon at Main Stage the following day
SATURDAY
DAY 6
9 AM.
MAIN STAGE
I get a lesson in climbing safety. Things like how to lock my legs.
The plan is to let me climb the stage at 4:20pm.
That will be when the park is most crowded, and there will be a member of Safety Patrol at top.
Climbing, I was a little nervous, at first.
Safety Patrol scans the crowd, making sure no one is hurt, then checks on me.
He verifies I'm also okay, and then climbs down.
I'm strapped in, and alone at the top.
(pic by Joe Turner)
Once I calm myself I am able to fully stand and start drawing.
I hear someone yelling "BOULET!"
I look up to a group of smiles.
Thank you Joe Turner for snapping the above pic.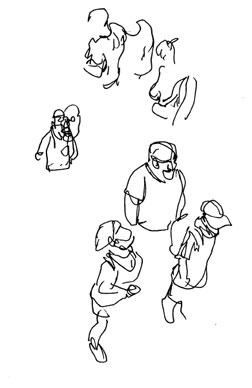 I sketch randomly, and begin work on the (below) main drawing.
I make the most of my time up there, and get another quick sketch of
Vivian McPeak as he talks to us about HempFest.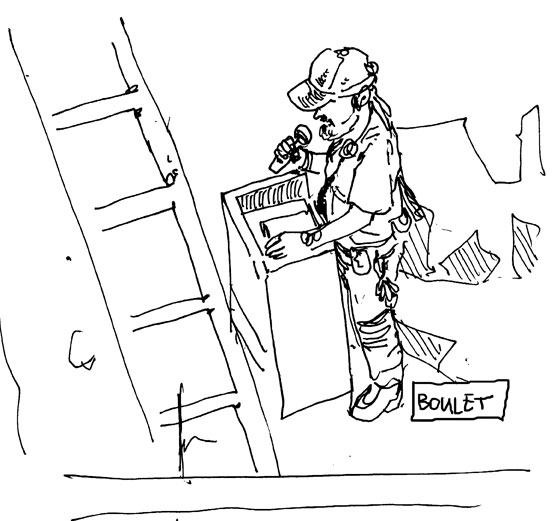 Life is good.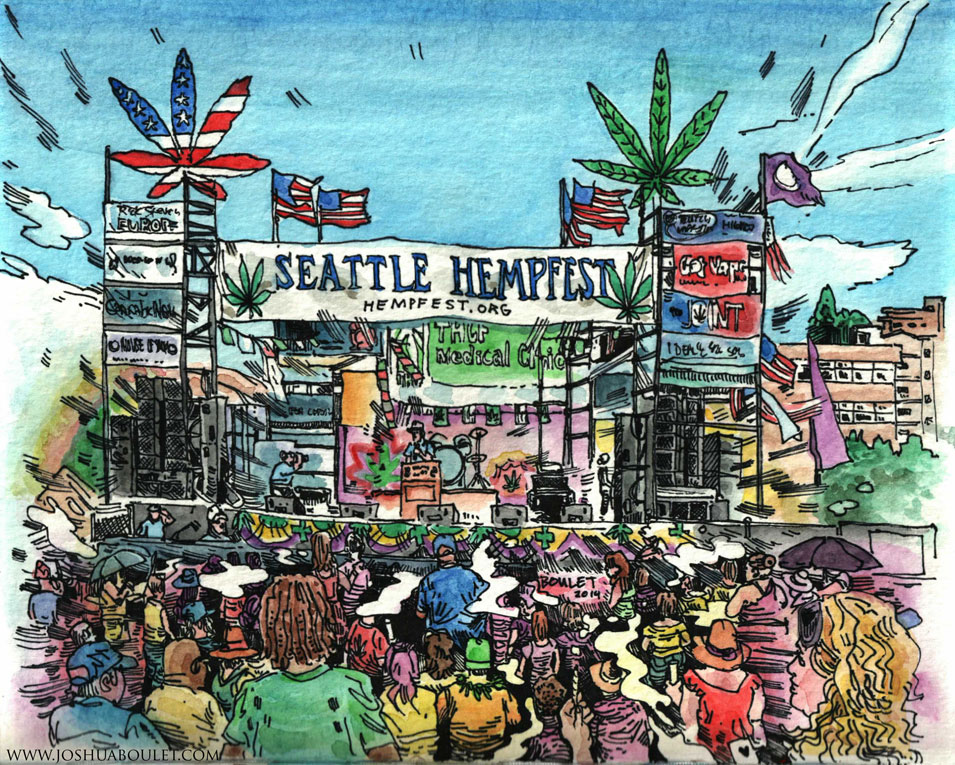 Day 6 winds down into the late hours.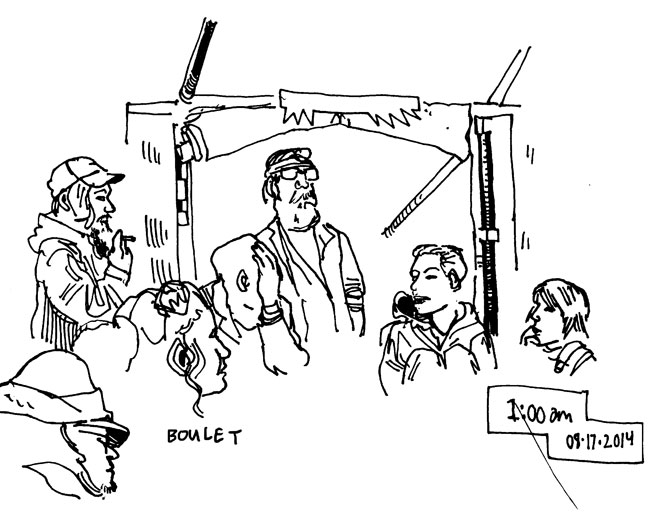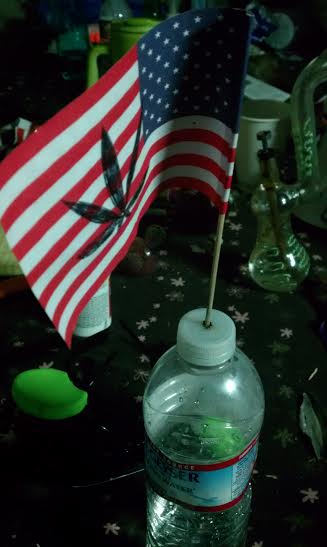 DAY 7
SUNDAY
The last Day of Hempfest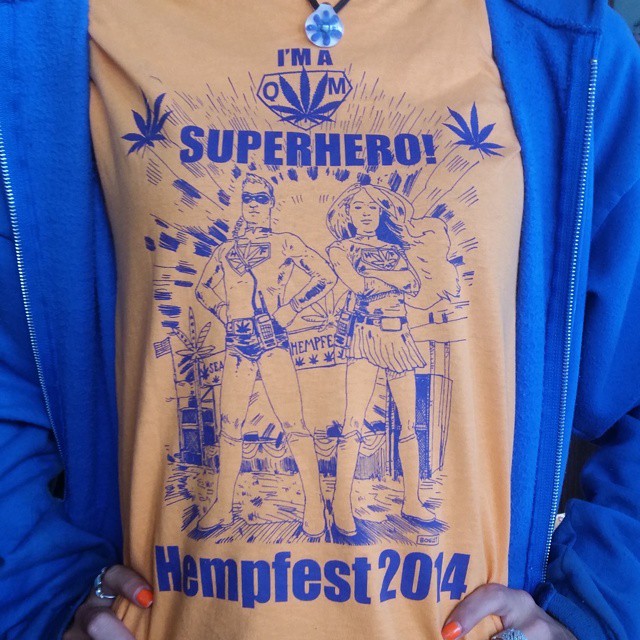 (above) Yes, that is my art on that Hempfest shirt!
SEELEY STAGE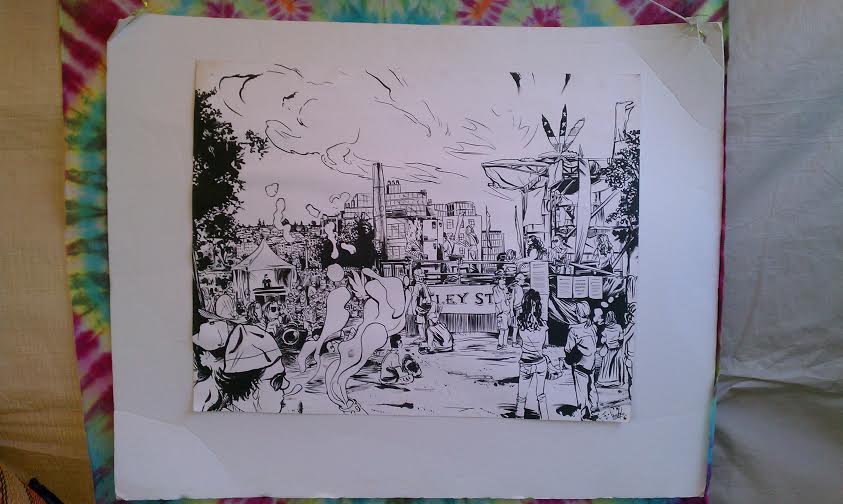 My artwork from my very first 'Fest (2009) hangs in the Seeley Stage lounge area.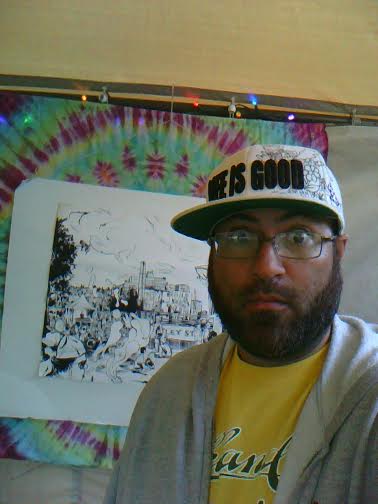 "we did it' I hear a volunteer shout
"we pulled off another Hempfest!"
CHEERS.
That they did.
DAY 8
TEAR DOWN
It's Monday.
Hempfest is over, but we're still in the park.
Tear down requires three days.
After Fest closes it's generally only the "hard core" volunteers that stay for clean up.
One of those volunteers is Kenji.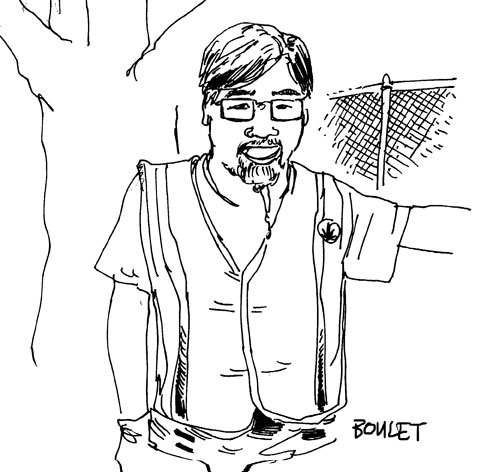 We talk, optimistically, about life as I sketch him.
When I show him my book he laughs, telling me that he is the one who spray painted the pot leaf on the #420 site placement.
Thank you universe.
I continue to help pick up the trash in the park. Hempfest's goal is to leave the park cleaner than how they received it.
this means picking up every single cigarette butt, and oh there are a lot of them.
Cigarette butts and blunt wrappers make up most of what I collect.
Then I stumble upon the disassemble pot leaf.
Hempfest is over.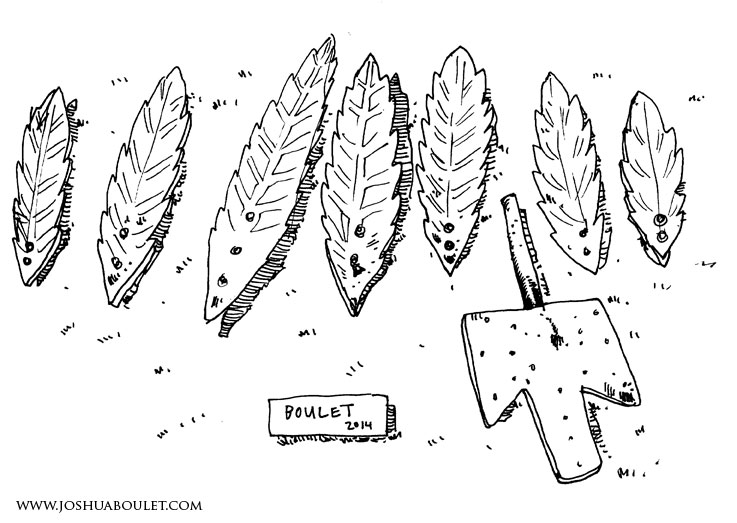 .
SO LONG AND THANKS FOR ALL THE WEED
OAKLAND's
ART & SOUL
http://www.artandsouloakland.com/
08.02.2014
I came for the Barbecue.
I found something better.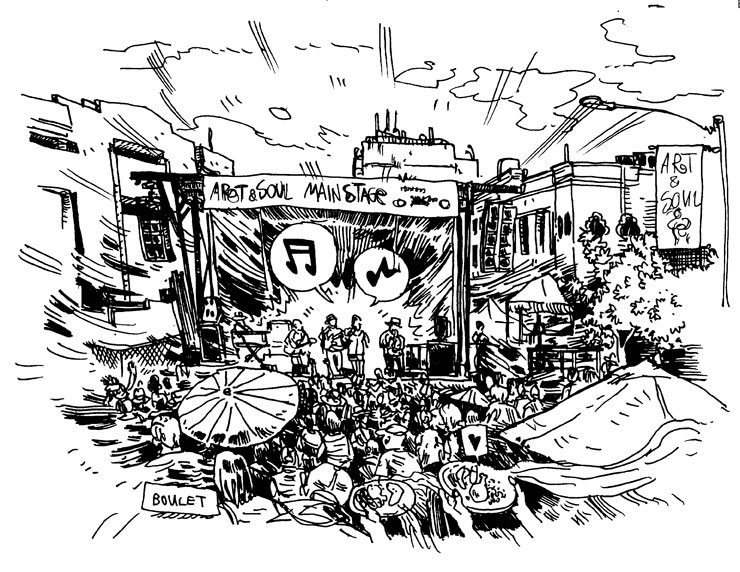 (above) MAIN STAGE
Today I witnessed the most beautiful thing I will ever see.
Having said that, how sad it sounds to think that I could never see anything as beautiful again, for the rest of my life.
But that is wrong, that is part of the beauty of what I saw.
I can witness this as often as I want, and it will be in different forms each time.
So here we go.
08.02.2014
I'm at the Art and Soul OAKTOWN THROWDOWN.
I'm at the CLAY ST STAGE. This is a Gospel showcase stage.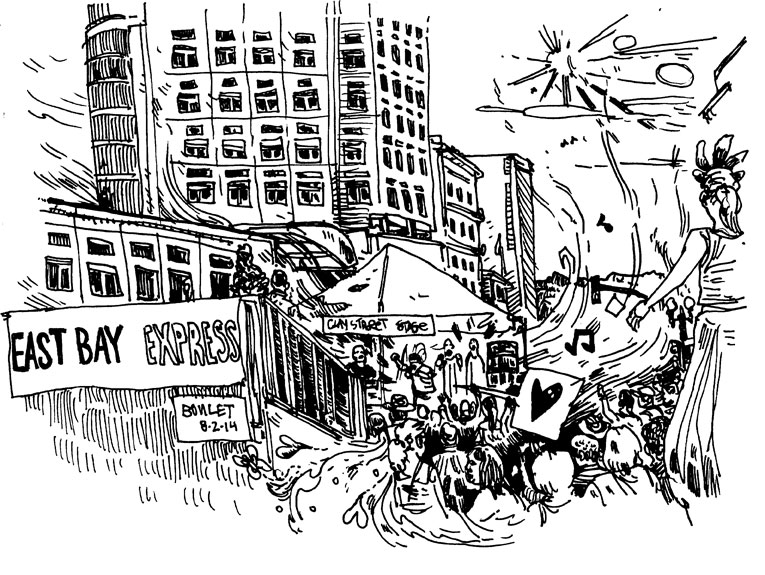 I'm sitting in the benches, at the very back. Observing, as I was created to do..
I smile.
My next heart beat is warm and fuzzy.
I see it.
I'm looking at the crowd, the act on stage, back to the crowd. Everyone is dancing, singing. and all this
and all of this is in praise of God.
My eyes tear up.
It's beautiful.
The most beautiful thing I've ever seen.
More beautiful than a naked woman.
More beautiful than a sticky bud of cannabis.
More beautiful than my perfect drawing- finished.
Dancing.
Singing.
Praising God.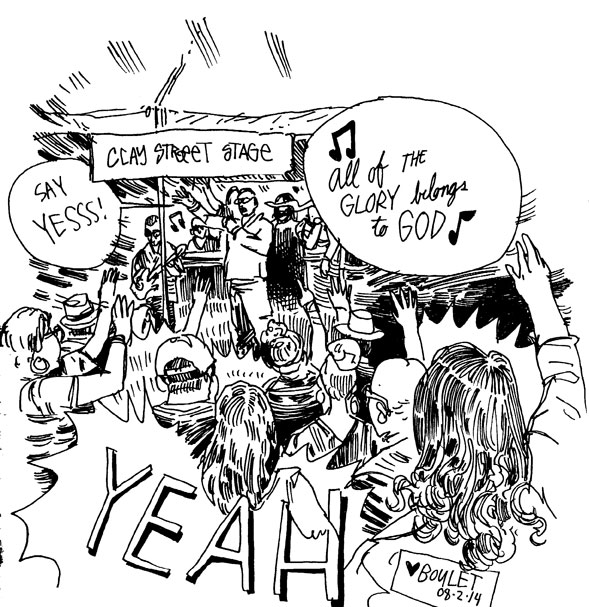 UPDATED 08.01.2014 by BOULET
OAKLAND FIRST FRIDAY
ART WALK
I skate from 40th street to the First Friday Art Walk.
It is my first time here.
It is bigger than I expect.
good thing I always bring my sketchbook.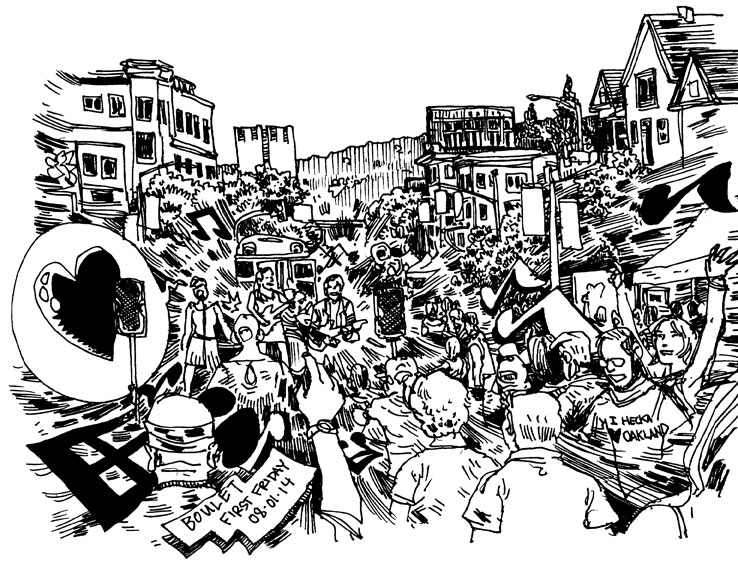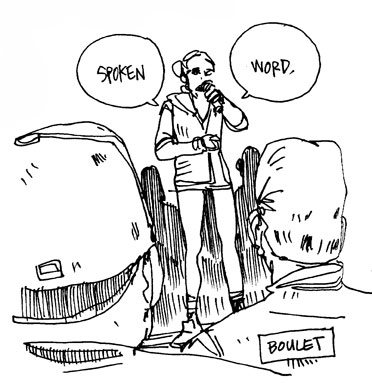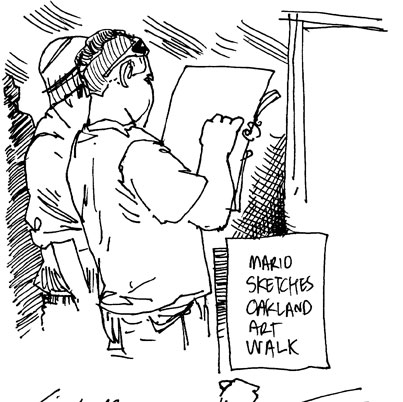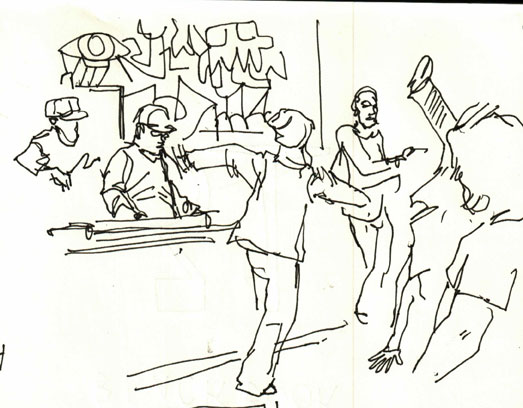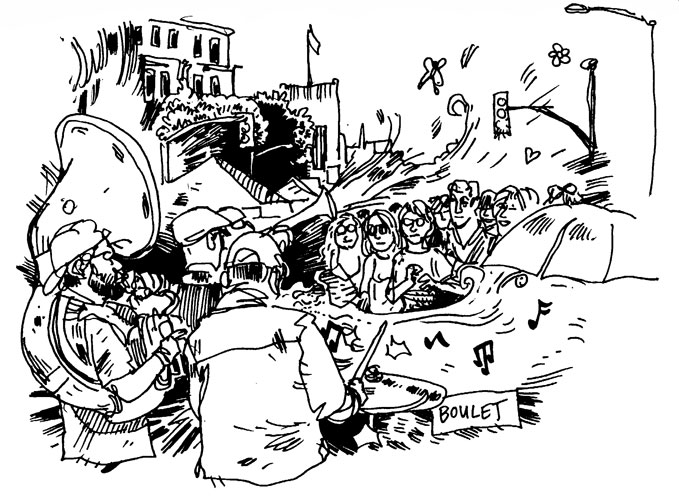 Spreading LOVE.
UPDATED 7.29.2014 by BOULET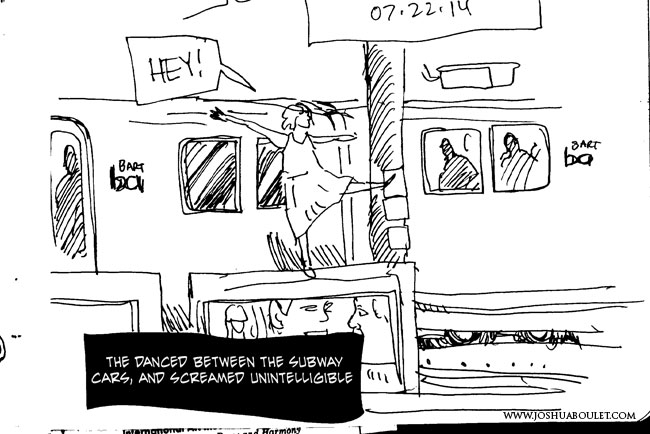 Now it is time for me to wander around SAN FRANCSICO, Draw, and get lost.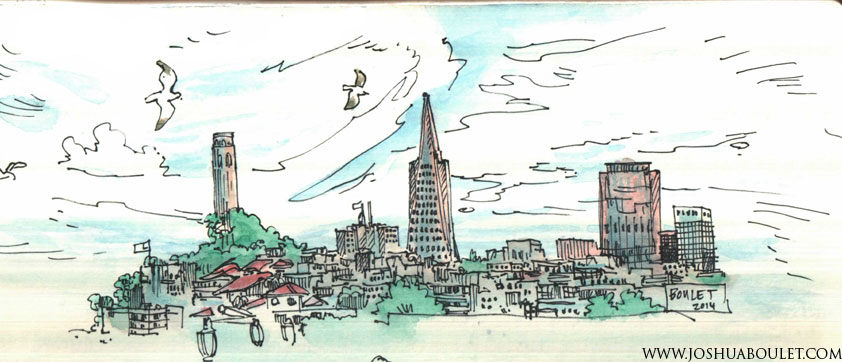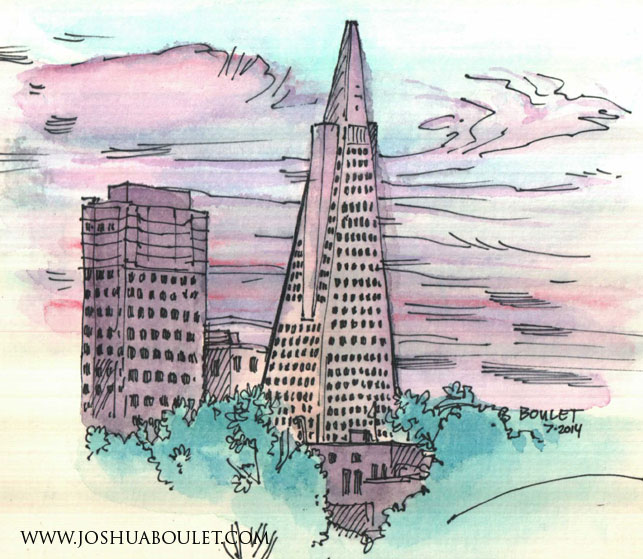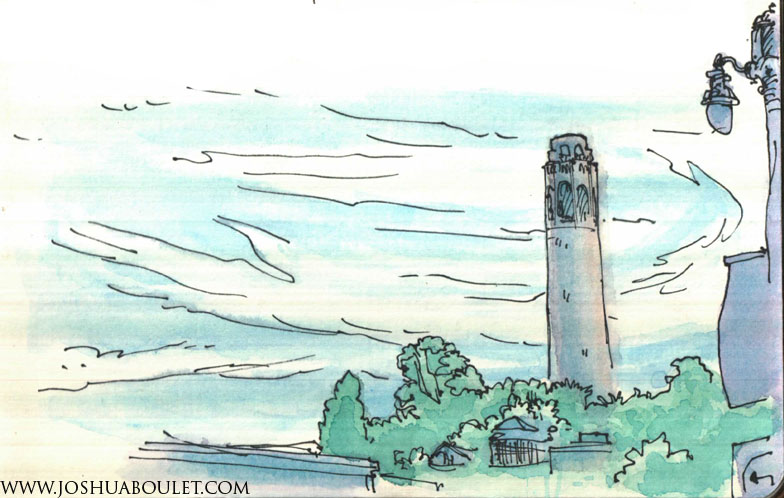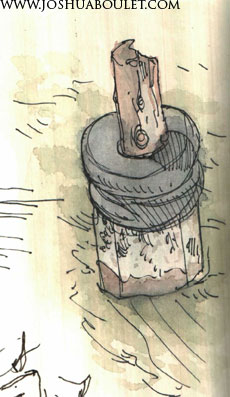 PIER 39: I stand in the middle of the tourists (This is a large crowd) and I draw...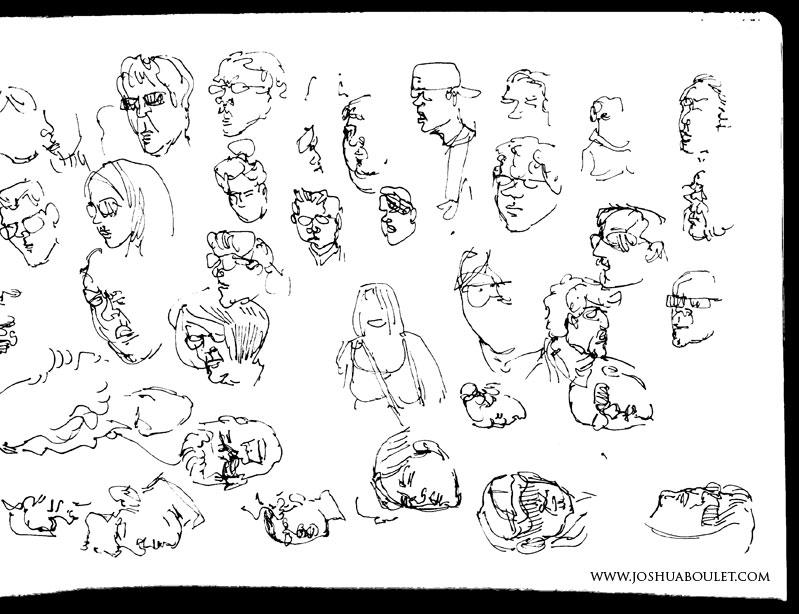 ALCATRAZ SAN FRANCISCO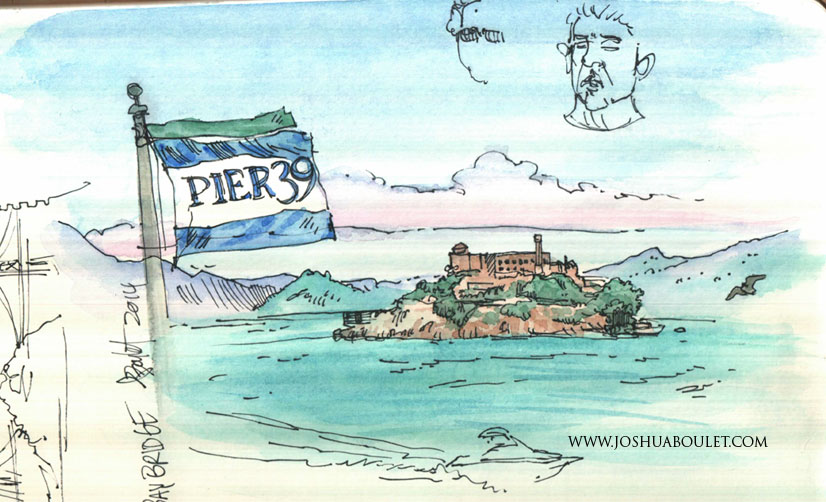 UPDATED 7.22.2014 by BOULET
Not all who wander are lost...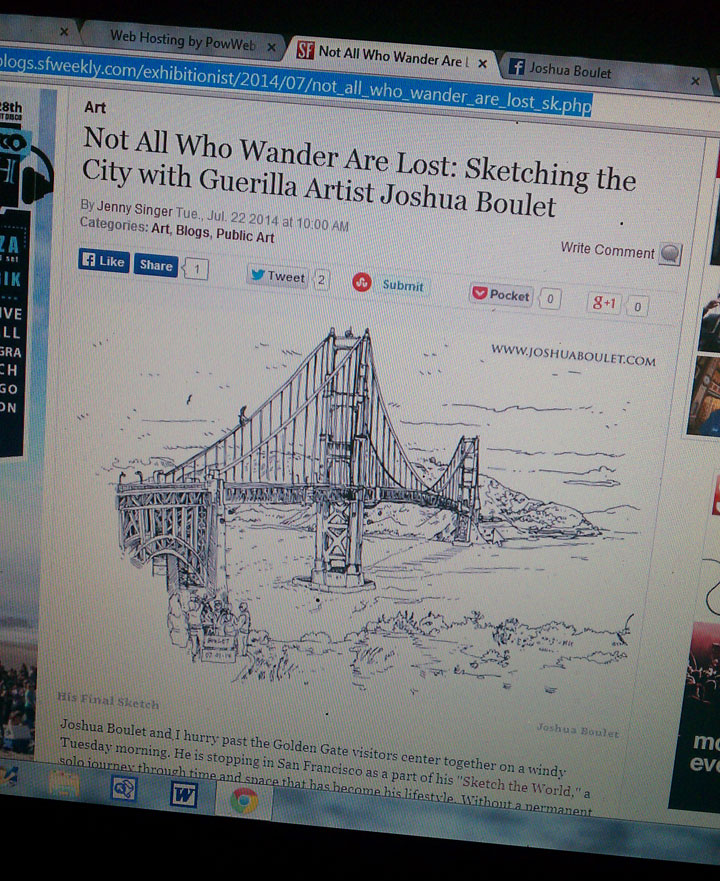 The lovely and talented Jenny Singer wrote an article on me as a traveling artist. Wanna read it? click below.
http://blogs.sfweekly.com/exhibitionist/2014/07/not_all_who_wander_are_lost_sk.php
UPDATED 7.16.2014 by BOULET
The call of the road.
To the CHALICE CUP
where the Bizzare Brothers have a non solvent hash entry, and I was just told I was going with.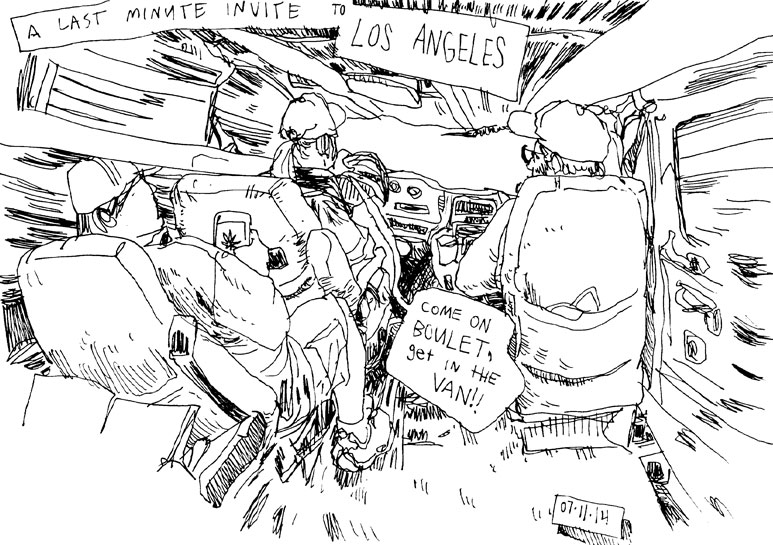 We leave Oakland and...
drive.
to San Bernardino
I am on the road again.
CHALICE
Saturday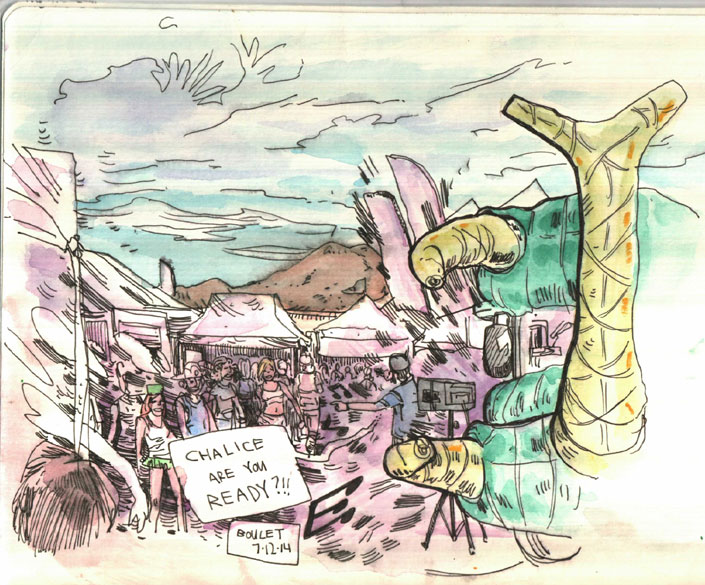 On main stage, E40 gets the crowd hype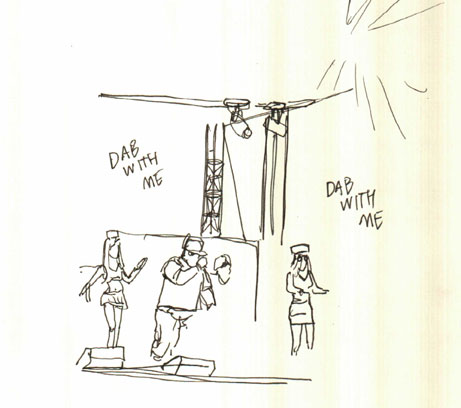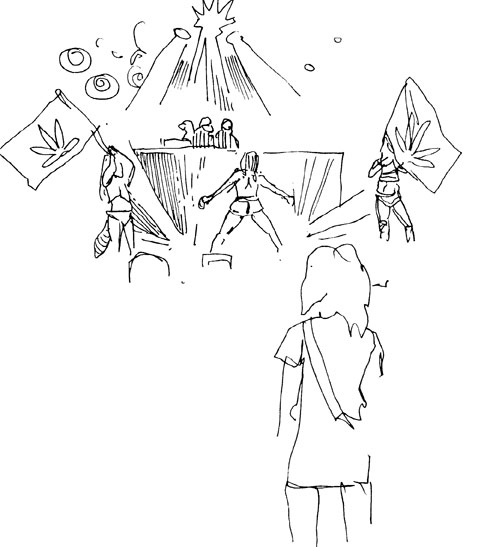 CHALICE
SUNDAY
DAY TWO
AWARDS , RAINBOWS , AND , LES CLAYPOOL.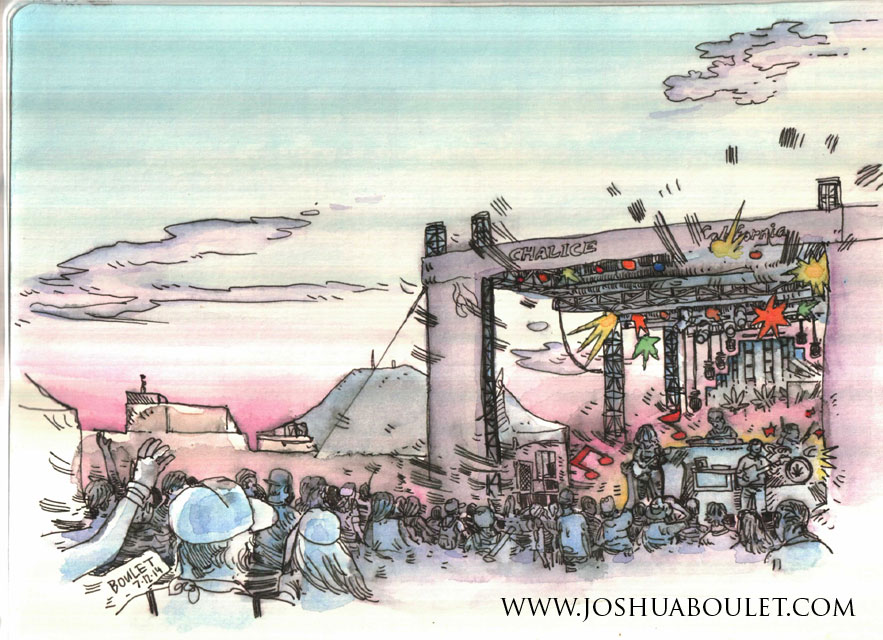 Les Claypool's "Duo De Twang."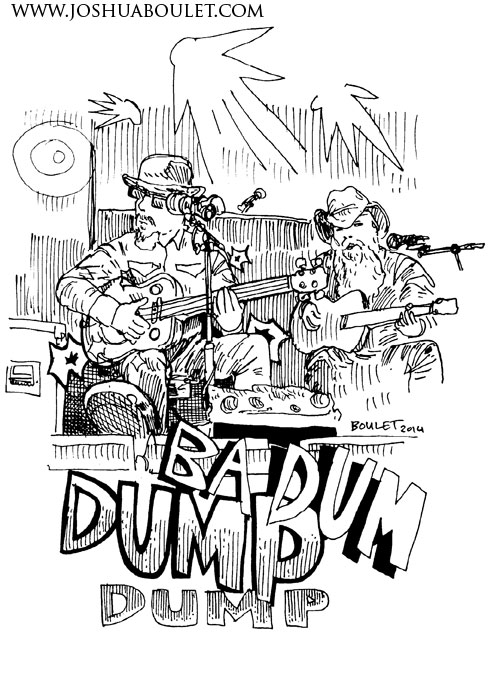 AWARD TIME.
The reason I am here.
We want the Bizzare Brothers to win.
Non Solvent Hash
Third place is announced.
Second Place is announced.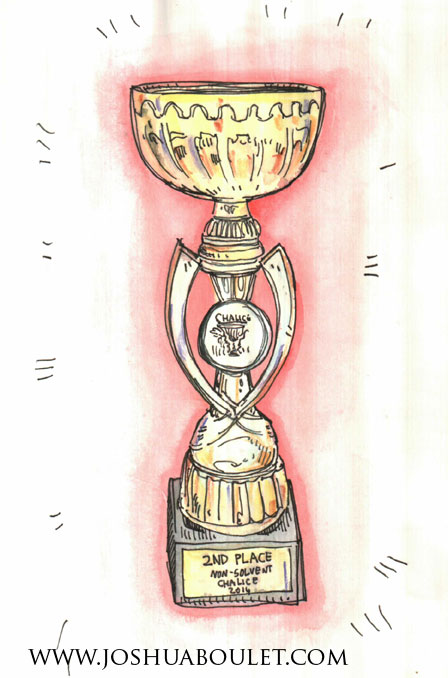 The Bizzare Brothers take second place, and they are happy.
Goodbye Chalice Cup 2014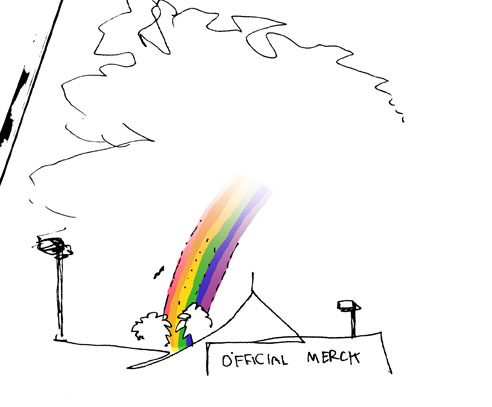 UPDATED 07.08.2014 by BOULET
i'm running around on the BART, trying to find something smart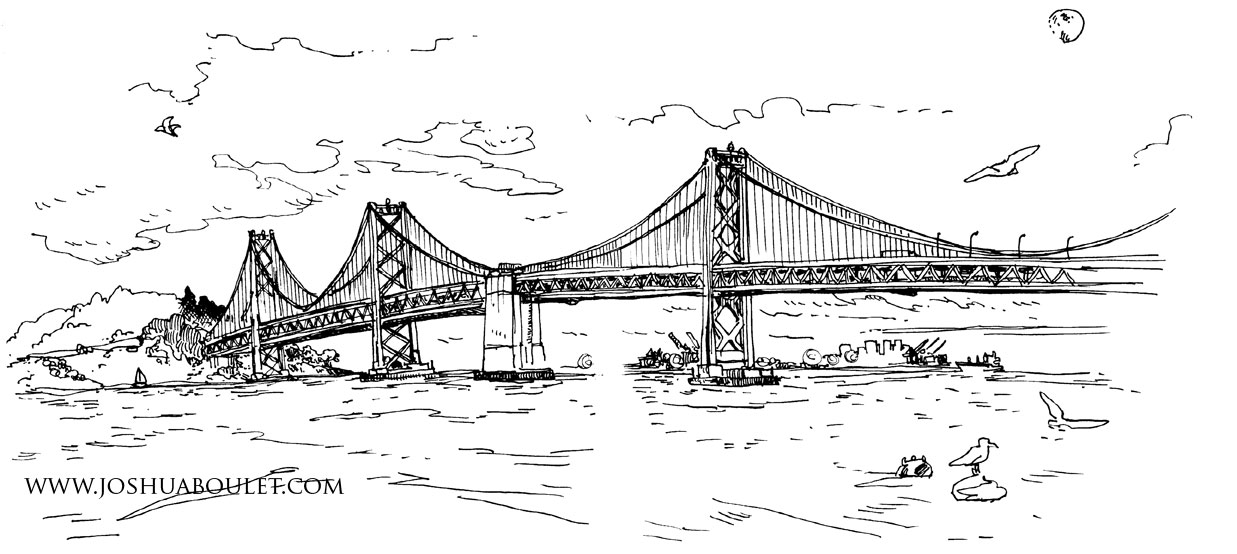 UPDATED 07.01.2014 by BOULET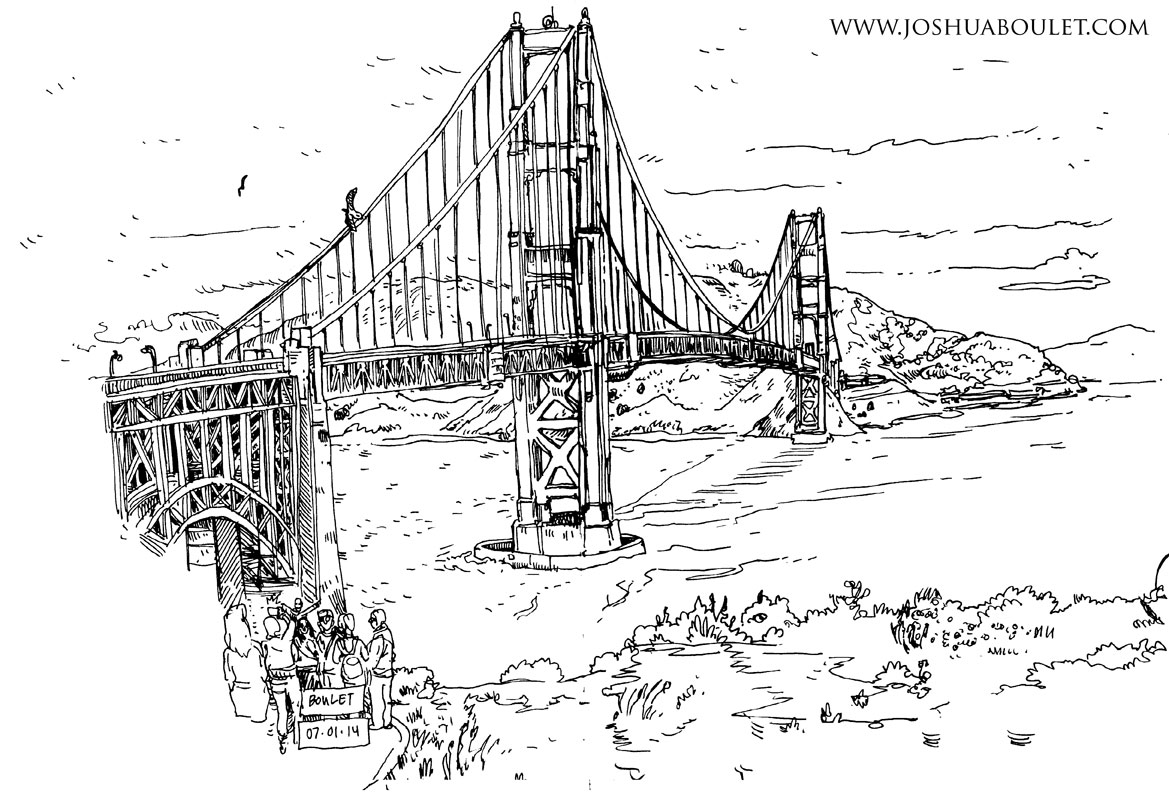 Walking across the Golden Gate Bridge
I spot a police man profiling me. It makes me uncomfortable.
I know what hes doing.
He thinks I want to jump off this bridge.
I walk past, and he catches up.
Hey Buddy, How ya doing today?
Im Fine.
Im already opening my sketchbook, ready to explain, as he fries off a bunch of questions. I answer.
Where you from? What brings you to the bridge today?
I explain that I am an artist, show him my drawing of the bridge, and thank him for being concerned about me. He smiles.
Well, okay. He says. I just wanted to make sure you werent gonna jump. You looked a little gloom.
???? Bummer.
We say bye, and I walk to the Vista Point side of the bridge, but with a weird feeling. Was I gonna jump?
I didnt get close to the edge again, but a couple times I did sing to myself, loudly.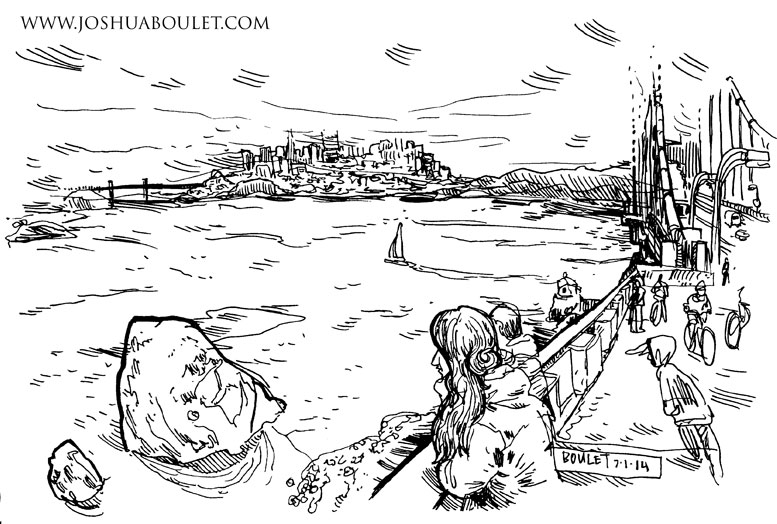 UPDATED 06.24.2014 by BOULET
Watercolors from Seattle
I've forgotten how much I loved it here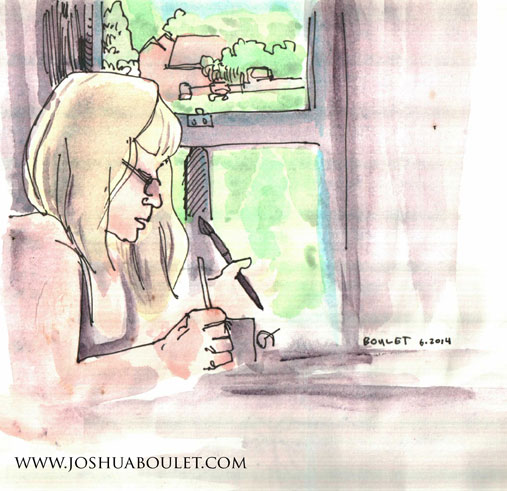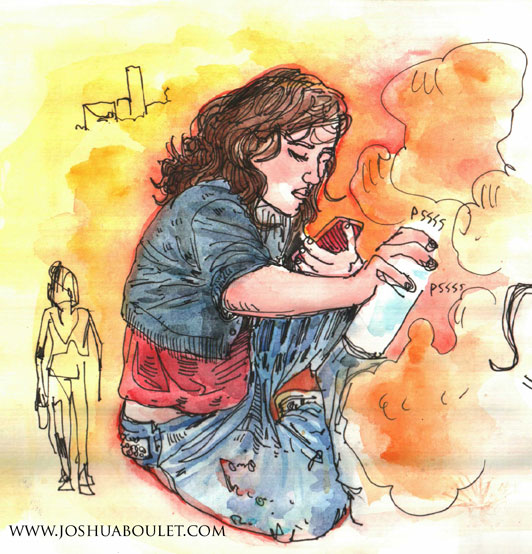 COLORADO TO MESA VERDE TO CALIFORNIA
She looked at me and said "I see you. You are one thousand different points of light and different colors.&quot
And I let her get away.
Looking back I'm not sure if there was anything I could have done. I was in love from the start, and she would leave me at a bus stop in Bakersfield CA.
This would be my Colorado.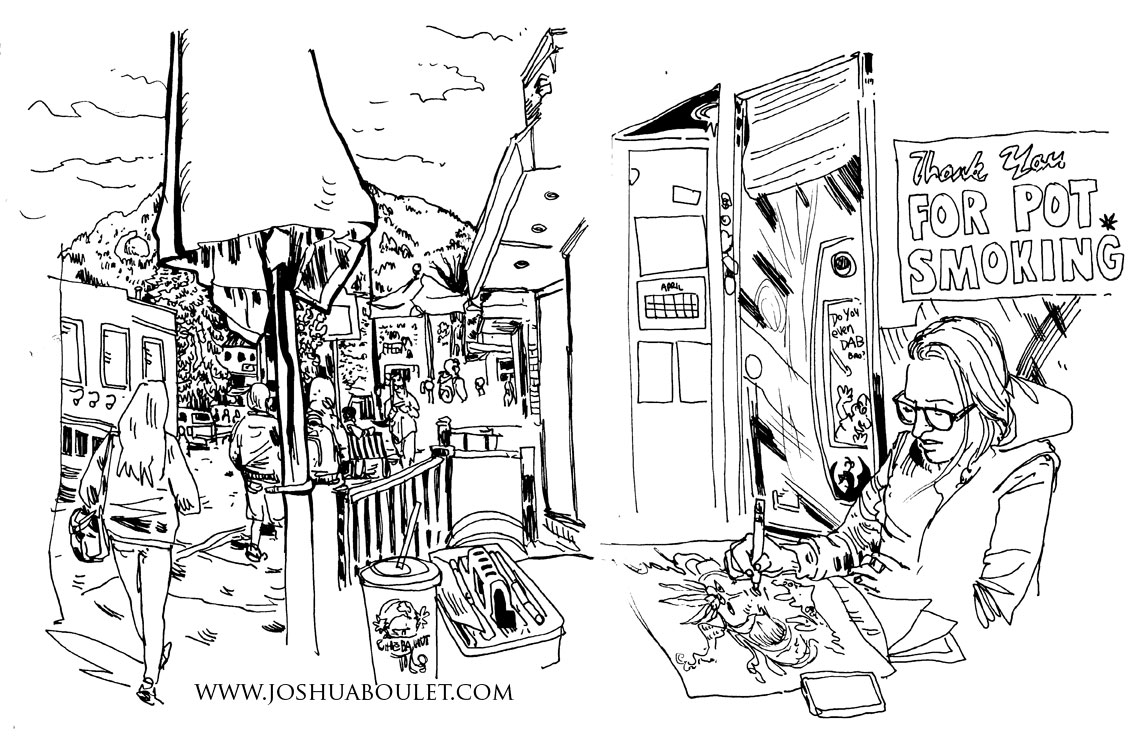 I followed Sarah out here, with out a plan. The last five years have been without plans. Usually it works out.
So here I am, climbing a mountain in Boulder Colorado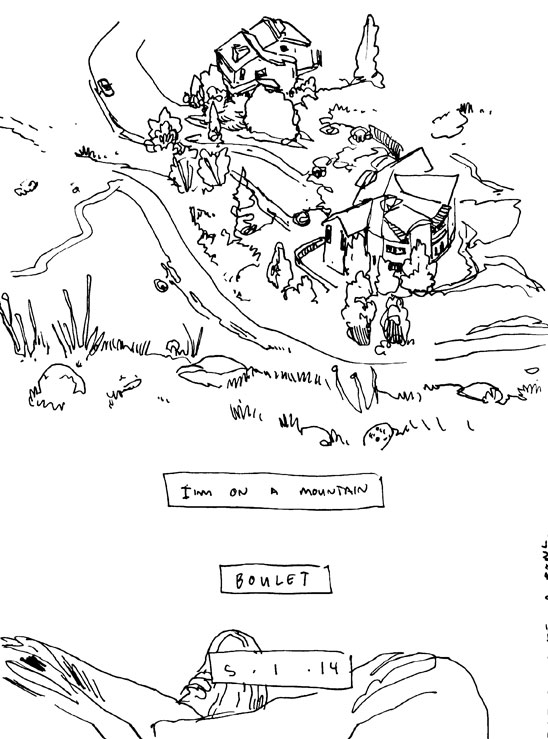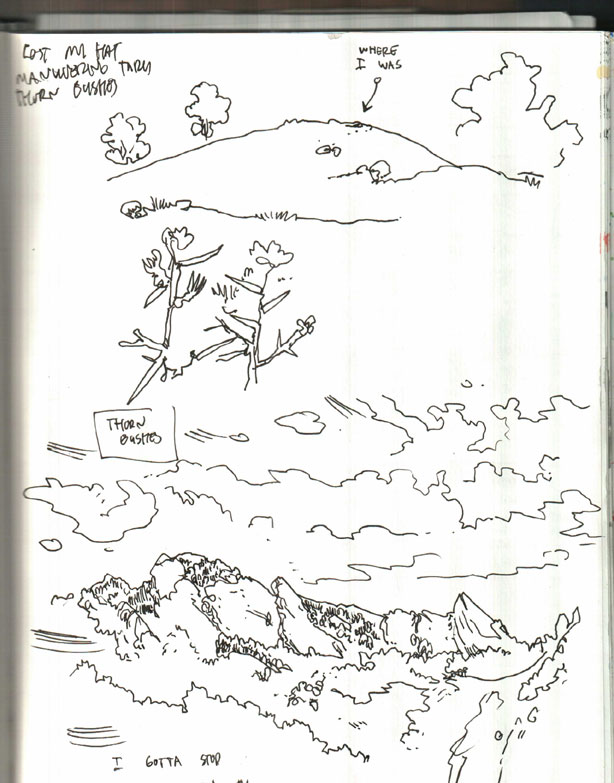 I gotta stop to catch my breath.
Exhausted, I plop down.
Ow. Something is sticking in my butt.
I don't care.
Catch my breath.
I stretch out in the warm sun, and fall asleep.
When I wake up, and decide to move again I realize I had been laying in a cactus patch.
That was the pain.
So I will continue the climb with a fair amount of cactus thorns stuck in my butt.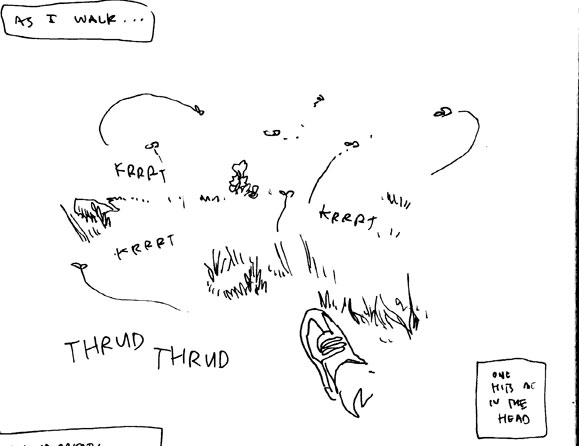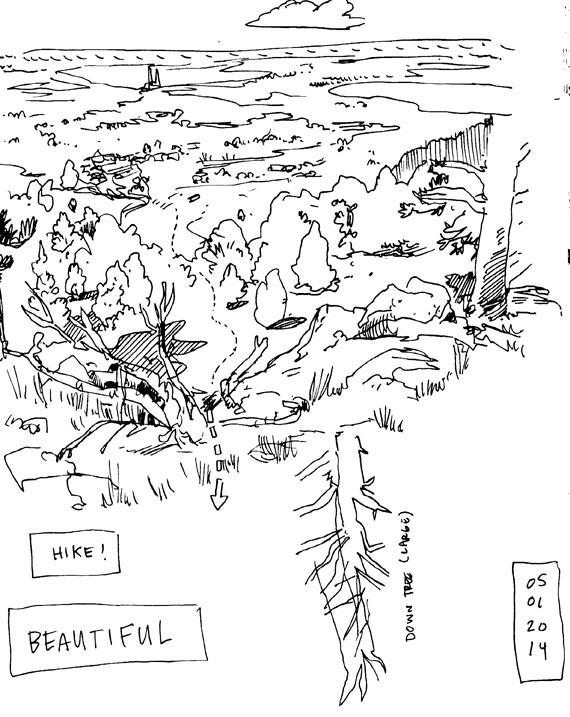 I was this high.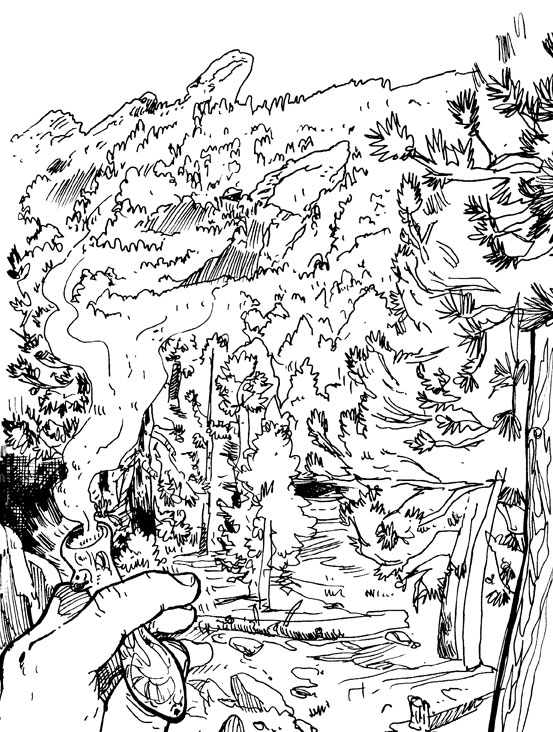 I wanted to climb to the "weird" rock but at that point I was satisfied.
Back down.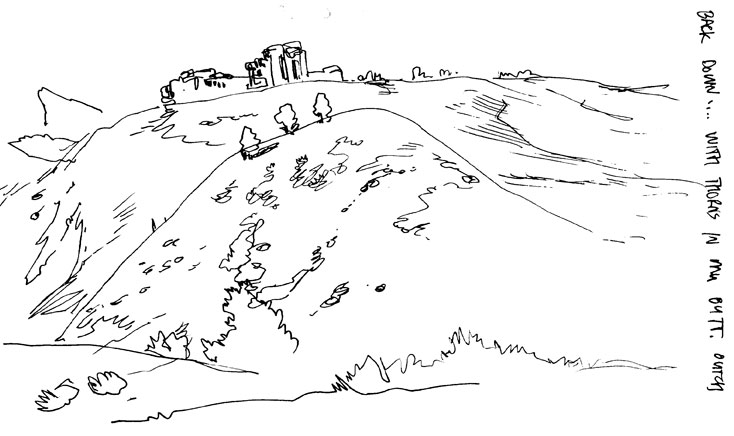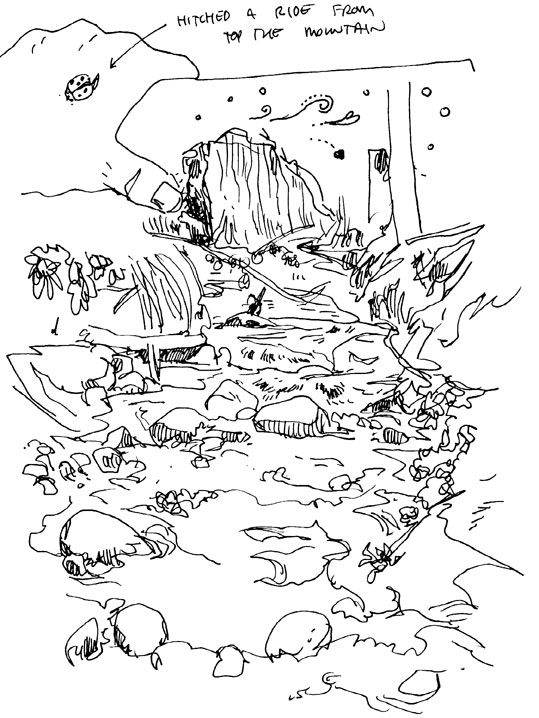 Denver Art Museum
I'm sketching in the Modern Masters exhibit, and a security guard tells me that I can not sketch in here.
This is the first time I've ever been told I can't sketch something.
Oh, my bruised ego.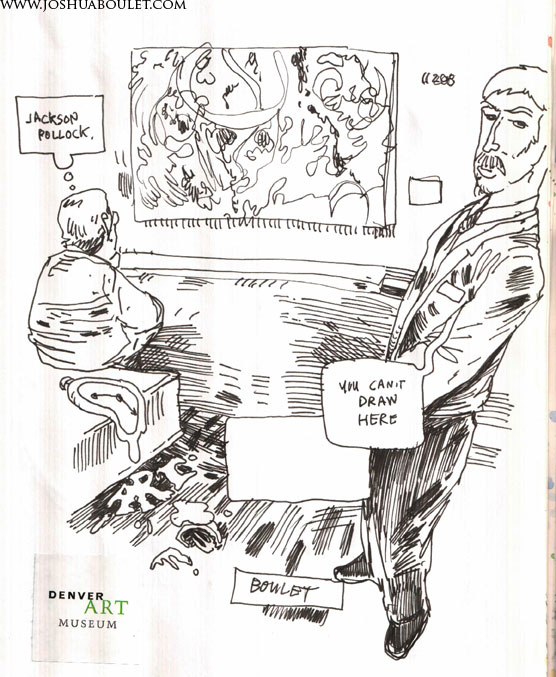 " BECAUSE ANIMALS PREFER TO BE KILLED BY BEAUTIFUL THINGS;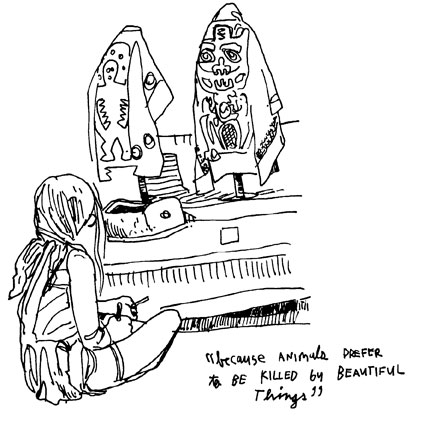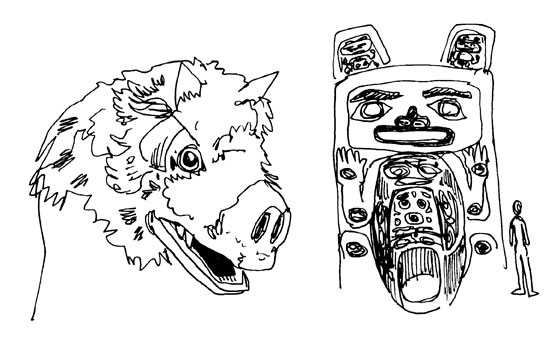 I sketch the mountain one day when it is covered in low clouds.
I call this my back yard, as I can walk to it, as it only takes 20 minutes.
BOULDER TODAY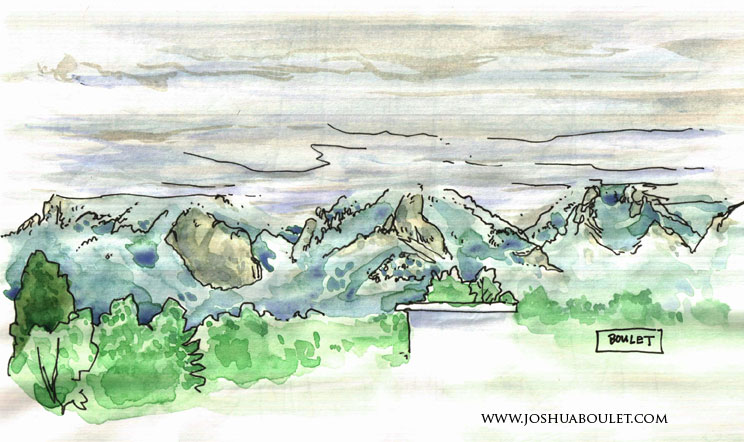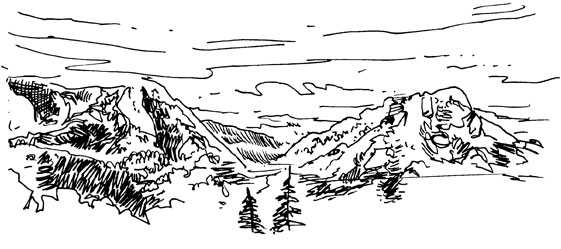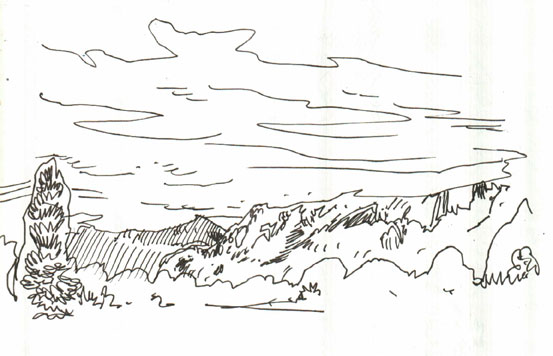 By now I have spent a month in Colorado, drawing, and smoking weed- with Sarah.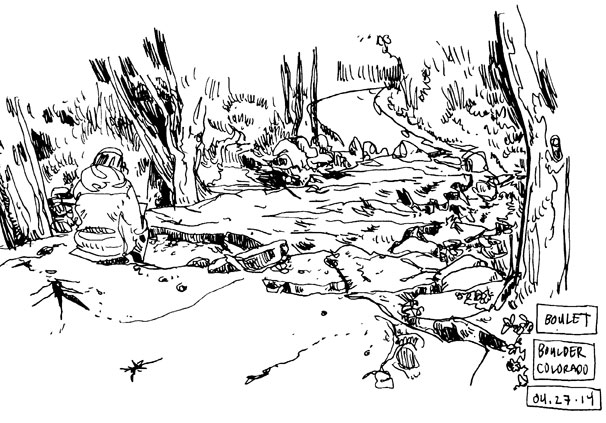 I know that if I follow her to California I will be following heartbreak.
She looks at me, and smiles. I smile back. Let it break, I think.
Let it break into a thousand fucking pieces.
I'll be strong enough to get through this, besides isn't it said that the more your heart breaks the more it opens up?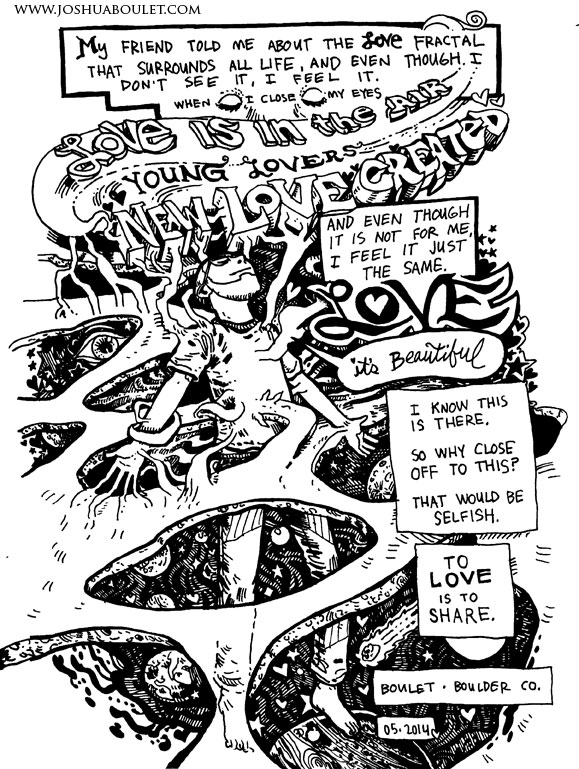 So I chip in on the gas, and we ride to
MESA VERDE
&quot Innocence is proof of Spirituality&quot
After sleeping in the national forest, hoping, but not seeing a Sasquatch, we wake up early in the AM to a park ranger cruising by.
It's a beautiful day, and when we arrive at Mesa Verde we are one of the first ones there.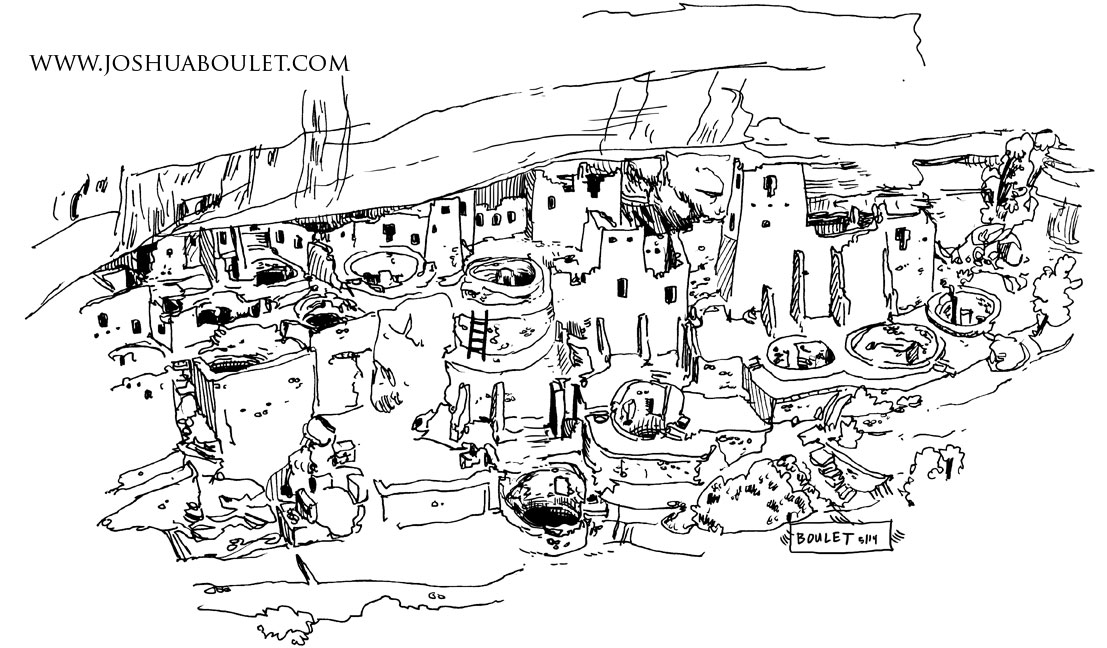 Sarah screams "It ain't about existing anymore- it's about living!"
It's Sunday morning, today, this is our church.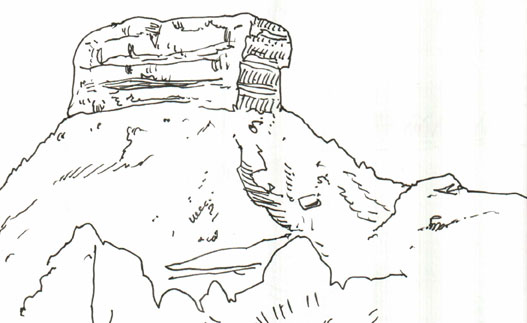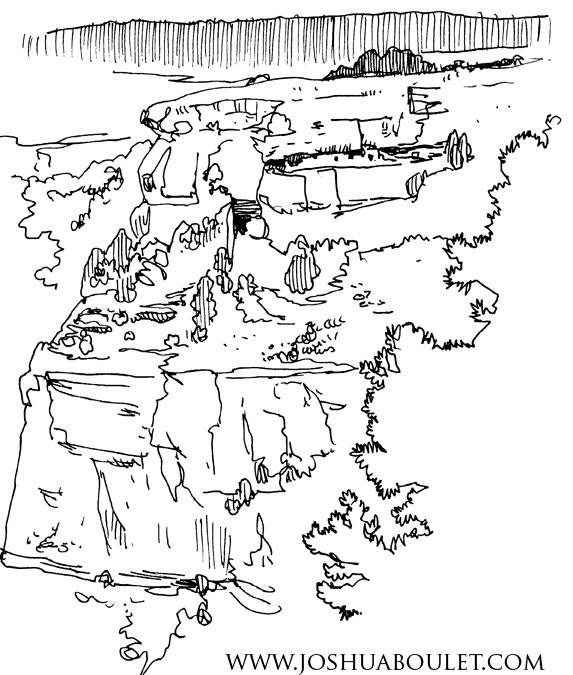 "House of Many Windows"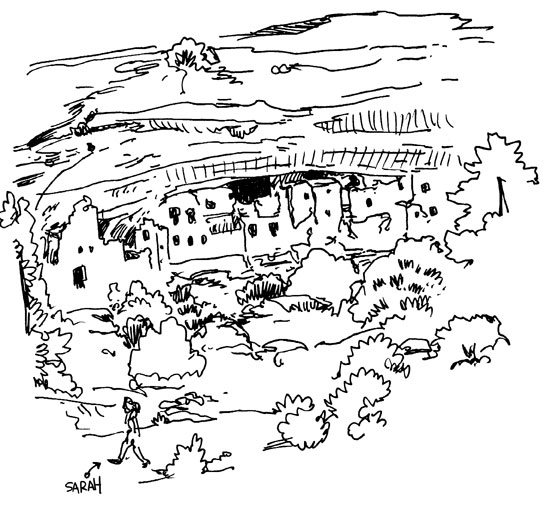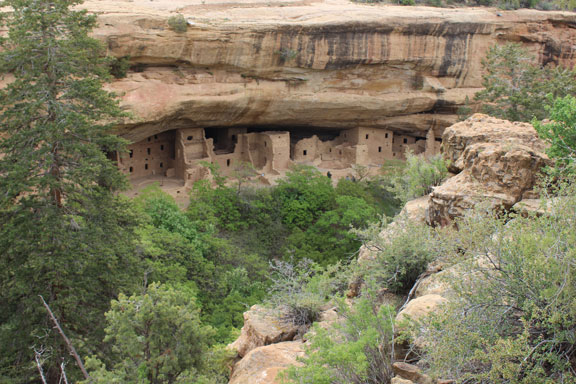 Flashback to Boulder CO, at a Goodwill, we picked up some road music. One CD is Elton John "Goodbye Yellow Brick Road&quot This will play on loop the remaining time, fusing that song and these following memories. Together. Forever.
She books two tours.
( BELOW- LOOKING INSIDE SARAH'S JEEP )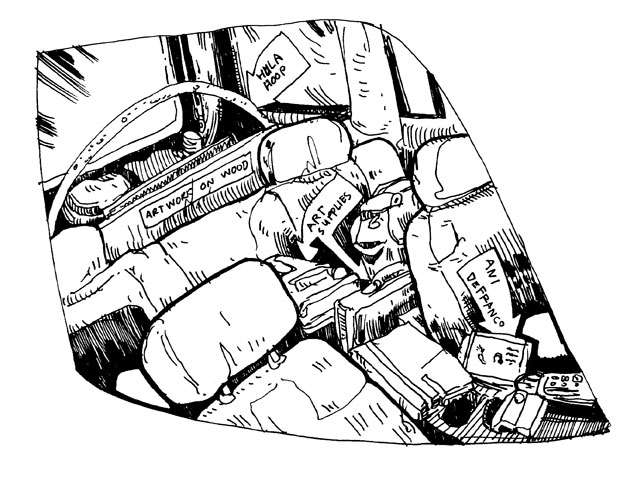 Sarah is, the self labeled, "Queen of Psyadelics"
(If you have ever heard the Sublime song "SCARLET BEGONIAS". I'm convinced it was written about her.)
Sarah pulls out two tabs of acid.
She looks at me and says "I see you. You are one thousand different points of light and different colors."
She hands me a tab.
And I drop acid for the first time.
It's gonna take a little bit for it to kick in so I have time to tell you about the tour we're about to go on.
It's an affordable tour, at only $4, and it allows us to go down into the cliff dwellings. Joining a large group, we climb ladders and crawl through small tunnels to get to the main area.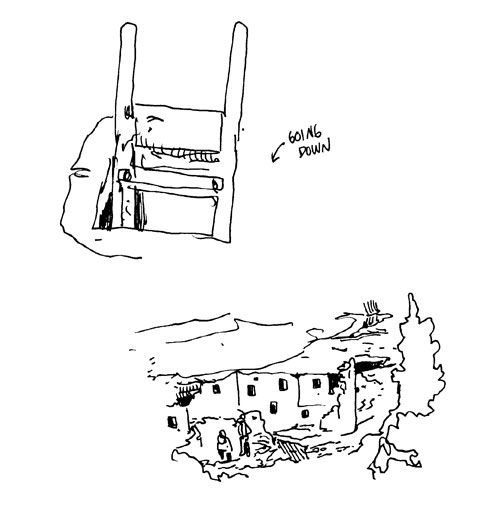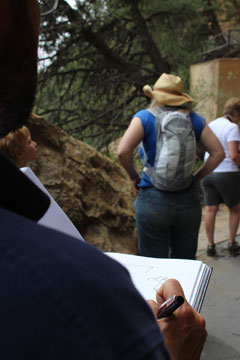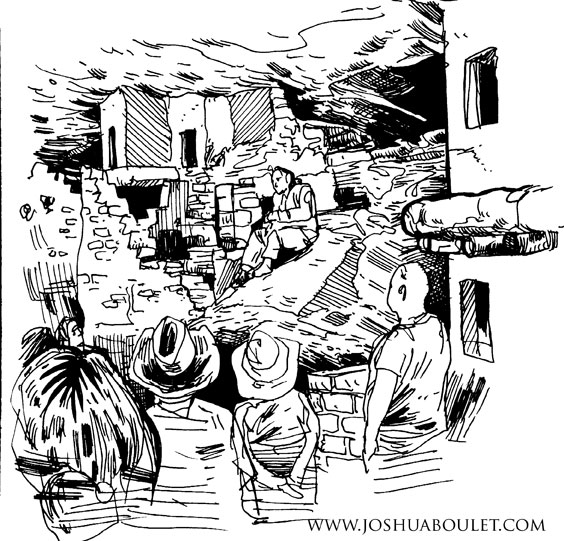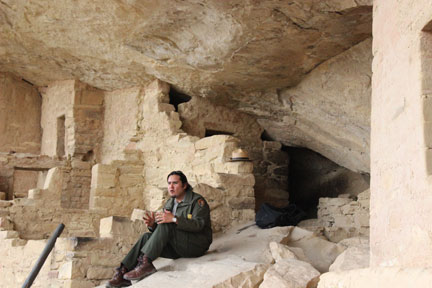 When the tour exits Sarah and I stay behind.
We are left alone in the ruins.
It gives her time to do something that she wanted, which is connect to the ancestors here.
She climbs down into one of the giant holes, touches the bottom, and leaves an offering- a bracelet she had picked up early on the road.
Off limits, unless....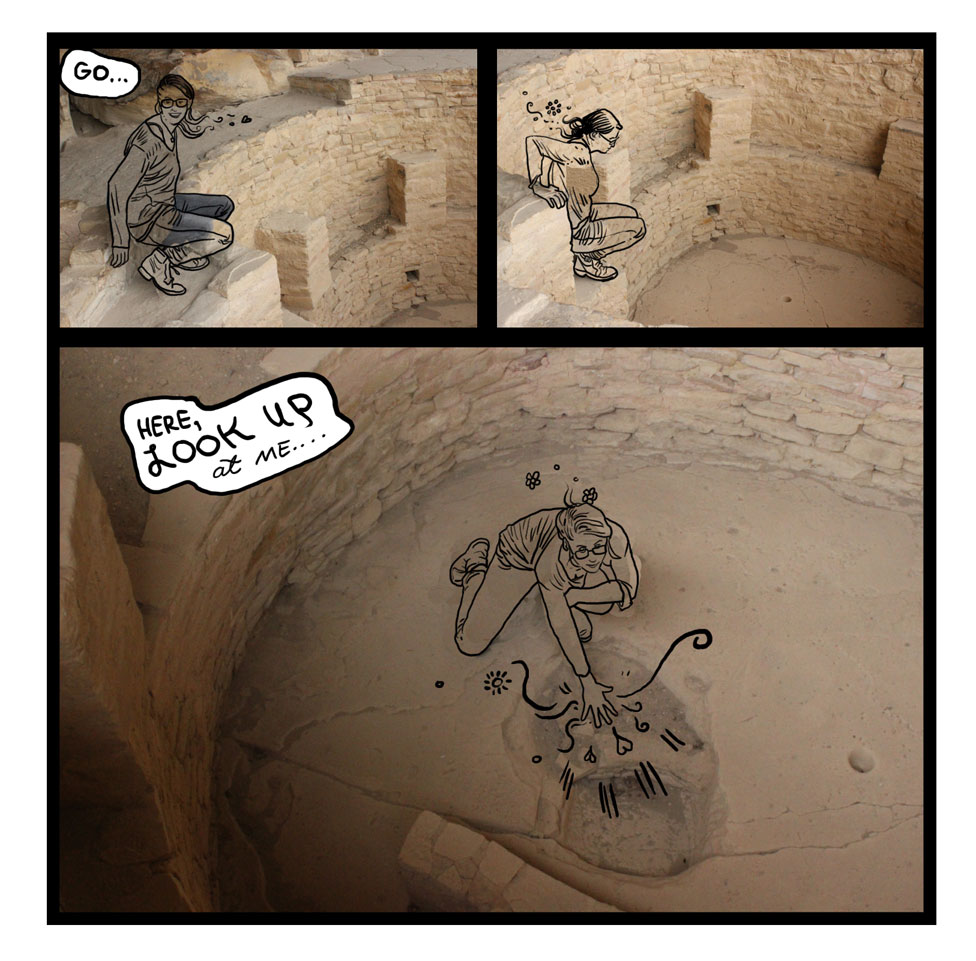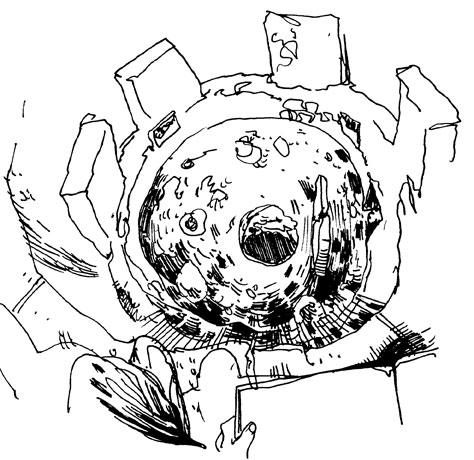 She climbs back up and we hang out until we can hear the next tour coming.
And yes, by now the acid has kicked in.
Laughing, we make our exit.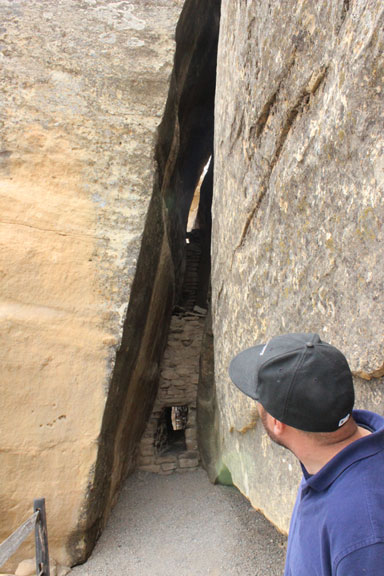 We squeeze through a small hole, and then up a ladder, we come to a locked gate.
No problems. We hop the fence.
A confused, vacationing, husband and wife stare at us
"I want to talk to the bees." Sarah announces, and I follow her into the wooded dessert.
I can see the life force of the trees here.
They dance and sway in the wind. .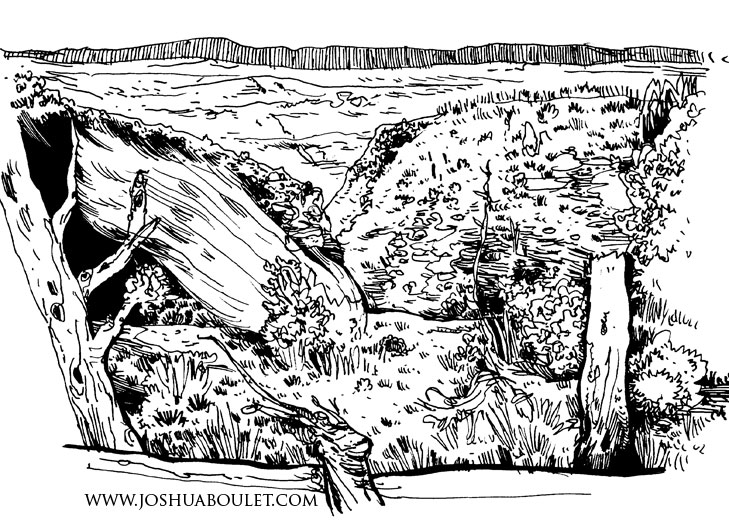 A realization while on acid
I smile, as I watch the trees dance.
I can see them breathing. In. out. Along with me.
What happens if I stop? They also so down.
SO the universe is a reflection of me/ you only.
As selfish as that is, I control all of this.
Then I realize all the beauty I miss outside.
I promise myself I will quit killing myself with tobacco
Knowledge is seeing beyond.
THE PEN IS MY LOVER.
I will die alone.
So I create beauty, everyday.
Heal your heart
Heal the world.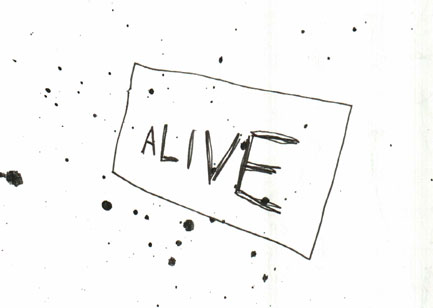 It's time to interact and remind ourselves that we are at Mesa Verde.
We return to the cliff dwellings, but damn, there are a lot of people.
We decide on something a little more low key, which is to walk the petroglyph trail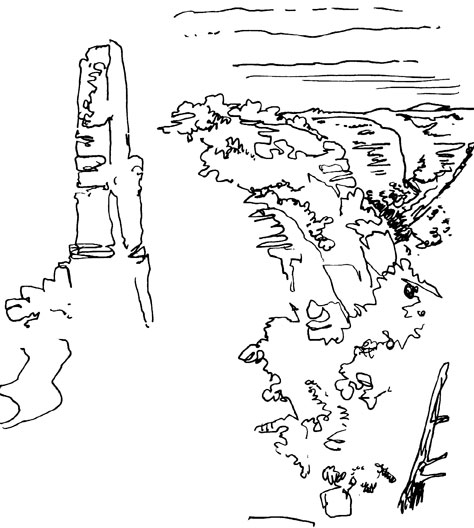 I watch Sarah,
giggle,
laugh,
jump and skip.
Did I already tell you that she was beautiful?
She stops to talk to a lizard, and confirms that we are going the right way.
We stop to admire the view, but head for a better one.
She finds it. A cave.
We have to climb to it. She immediately does, and helps me up.
This is where we will stay for hours.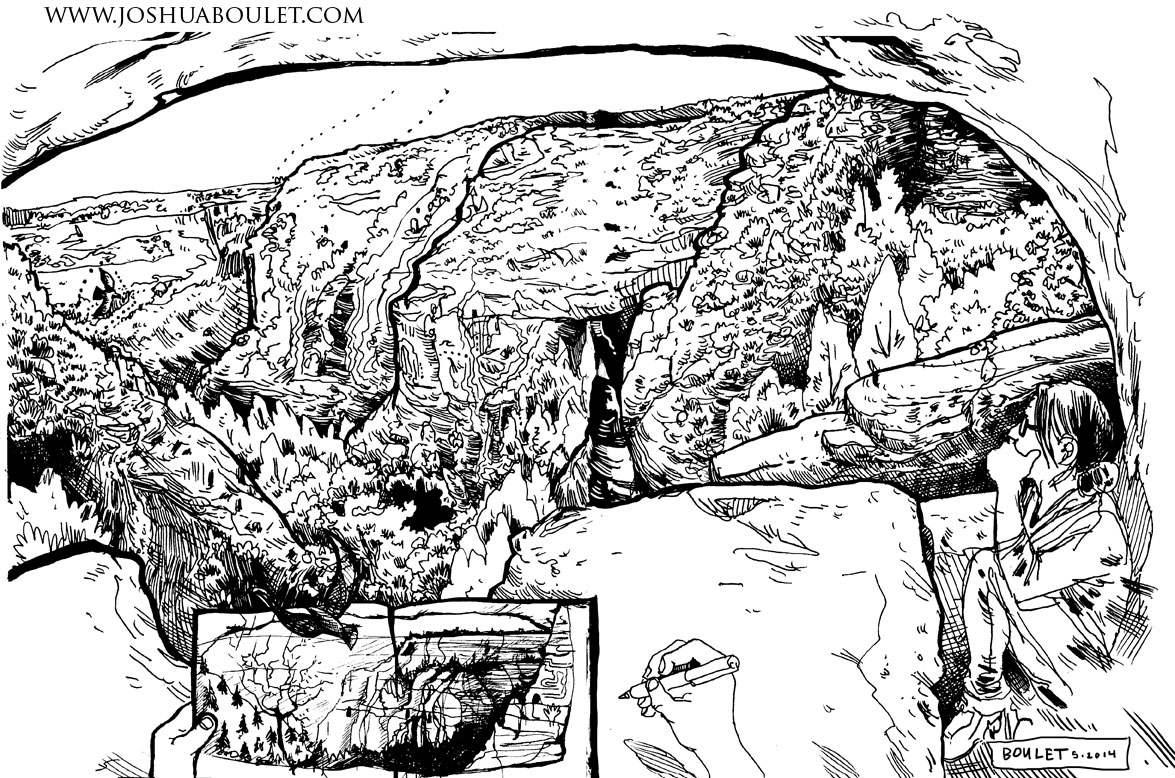 I stare at the view, committing it to memory, but I do sketch it as well.
It's magnificent.
A crow swoops past us, it's new neighbors.
We joke and laugh and smoke weed.
The acid makes us feel good.
This is cave life, and surely this must have been what it was like back in the day.
We spend time laying out on the front rock, sun bathing.
Tourists walk past the trail, and and I welcome them to our cave.
They all smile.
***
one interaction that makes me smile. About the third time I've welcomed someone
A couple, an older man and woman.
Sarah says Hello first.
Them: Hello
Me: "Welcome" Gesturing to our cave and mountain.
*giggling*
"You've guys been hanging out here long?" asks the man, as they continue down
"Oh, a couple years." I answer.
***
Sarah discovers the sandstone sounds hollow and creates a drum beat with the rocks.
Don't change the channel- look at that view.
BUT...
I guess we should leave the cave, before it gets dark. We do gotta hike back.
I say goodbye to the cave, and climb down. That was the highlight of the trip for me.
"GOODBYE MESA VERDE"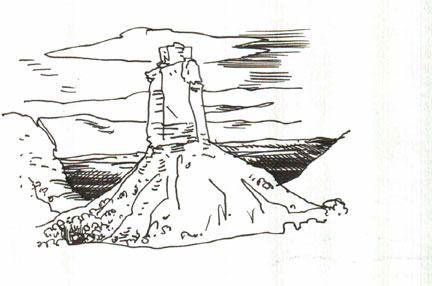 It's been a long day.
The sun sets as we drive out of the park.
Goodbye Yellow Brick Road is on repeat, and it plays us out of the park.
Thank you Elton John for helping make Mesa Verde awesome.
Now the weird part.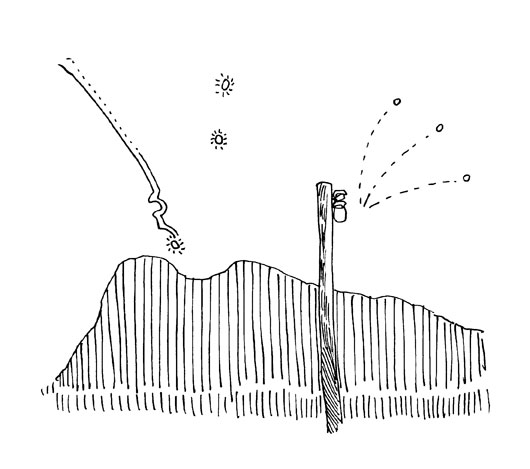 Unexplained "Lights" come in and out of this Colorado Mountian.
What I saw was
(FILE DELETED)
***
The next morning I am woken up by Sarah smiling, saying "Wanna see some dinosaur tracks?
Hell yes. I open the door.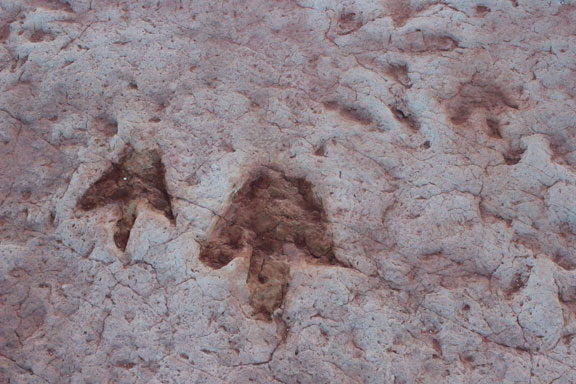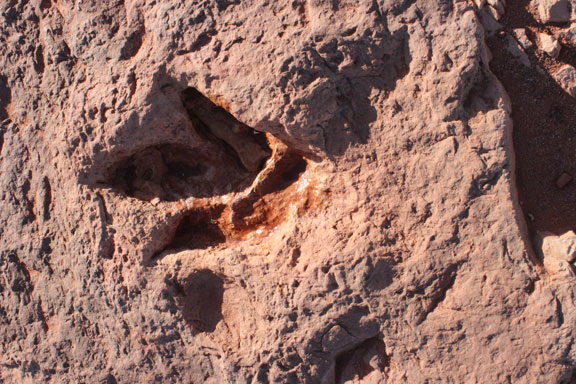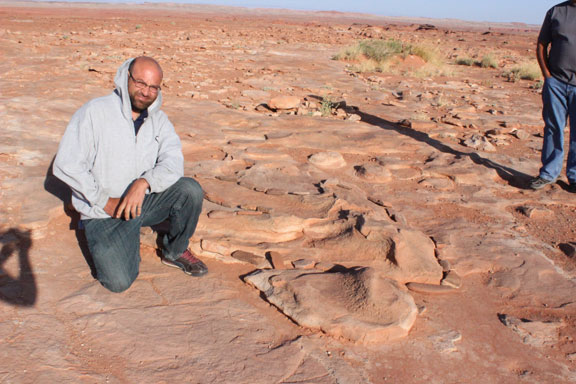 It's a long drive to California, and closer to the end.
Sarah stops to pick up a hitch hiker.
Later she said it was because she could see his glow.
He was a red headed kid, and in the sunlight that red hair did glow.
His name is Daniel.
He Australian.
He has an accent, that the second thing I noticed. Besides the red hair.
He's a musician headed to Las Vegas to record.
50 miles later of polite conversation, we drop him off.
He quickly disappears into another car.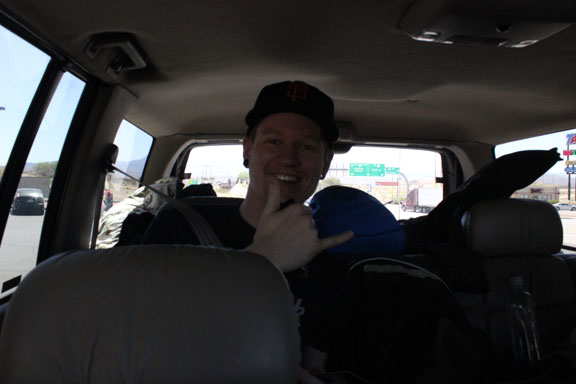 Now,
this is the end.
I chip in a little more on gas, and we make it to Bakersfield California.
Sarah stops about two blocks away from the GreyHound bus station, and looks at me. "This is okay right?"
I guess so.
I hop out, and she is already pulling my things out of her Jeep.
I try to smile.
We hug as she says "We will see each other again, soon"
I know that is a lie.
I turn around and leave, never looking back, and never to see Sarah again.
She left with her lover, the road.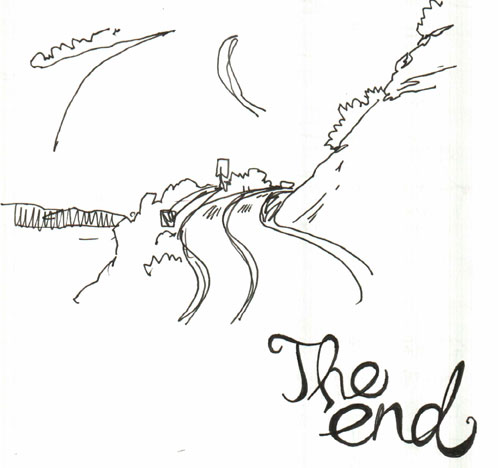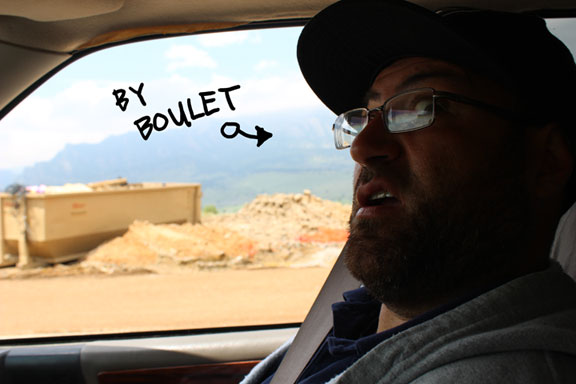 LIFE IS BEAUTIFUL
Boulet's adventures in the year of our world 2013